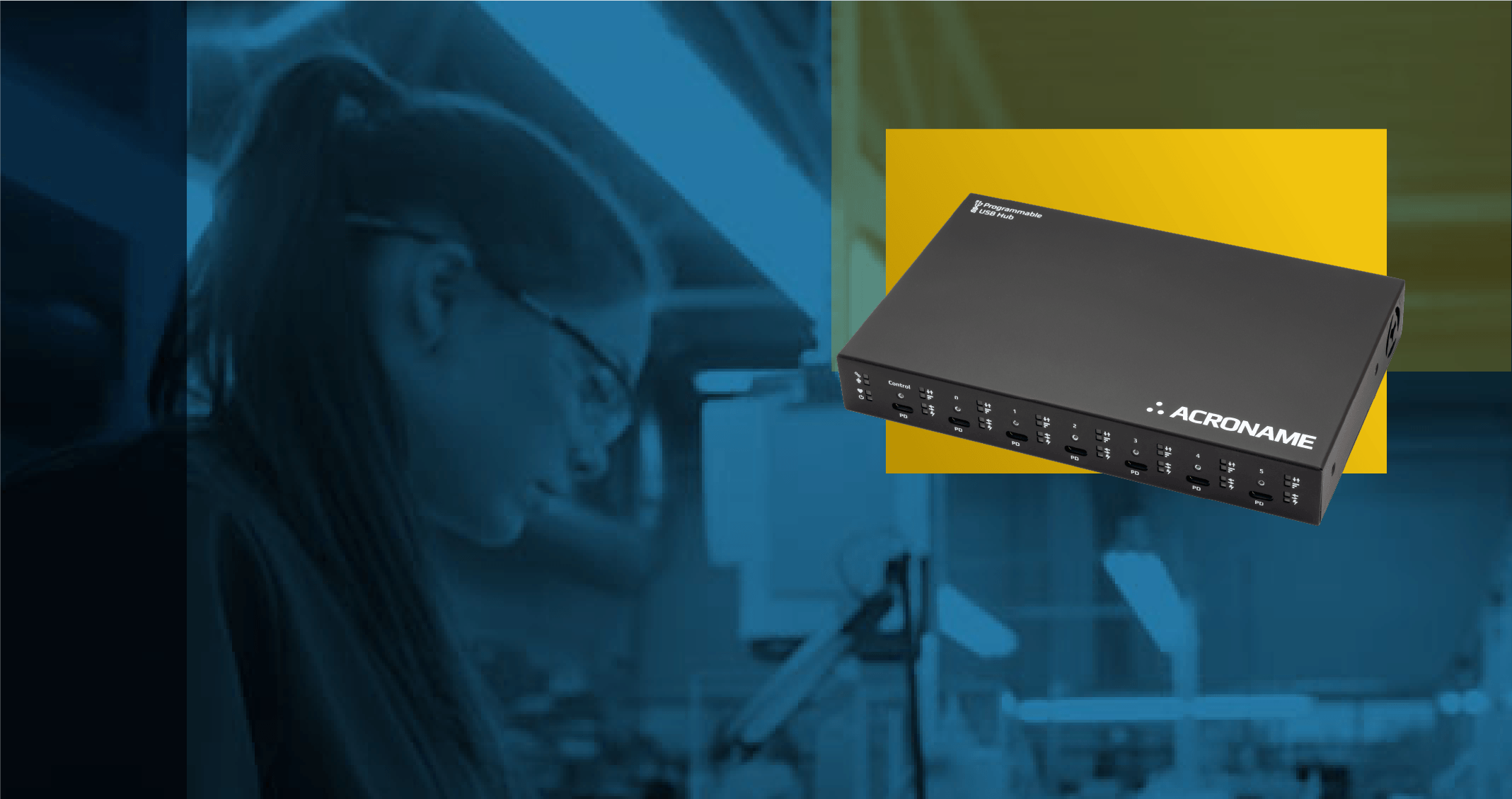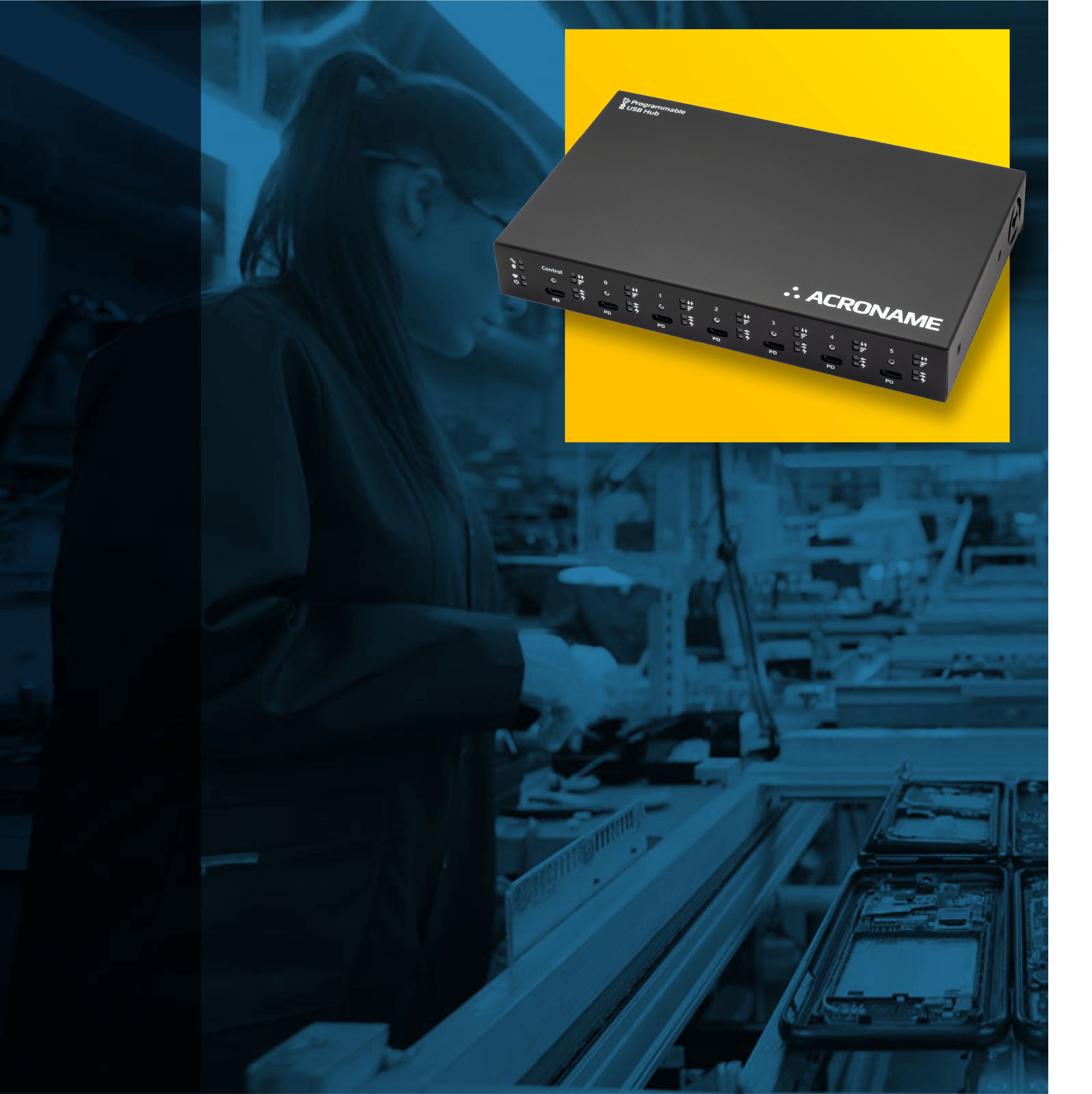 USBHub3c
The First Industrial
Programmable USB-C Hub
Power Delivery Analyzer,
and Tester
---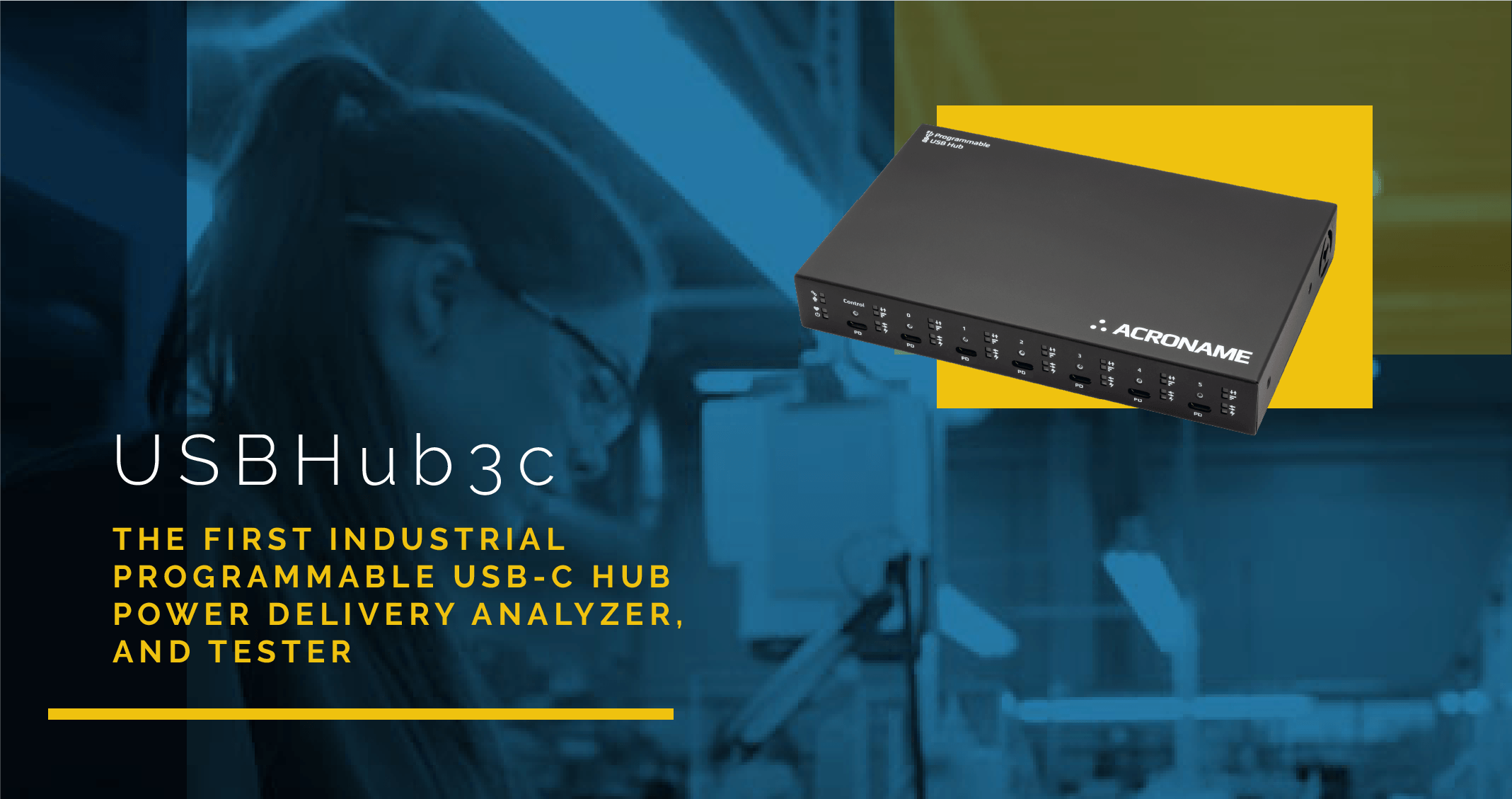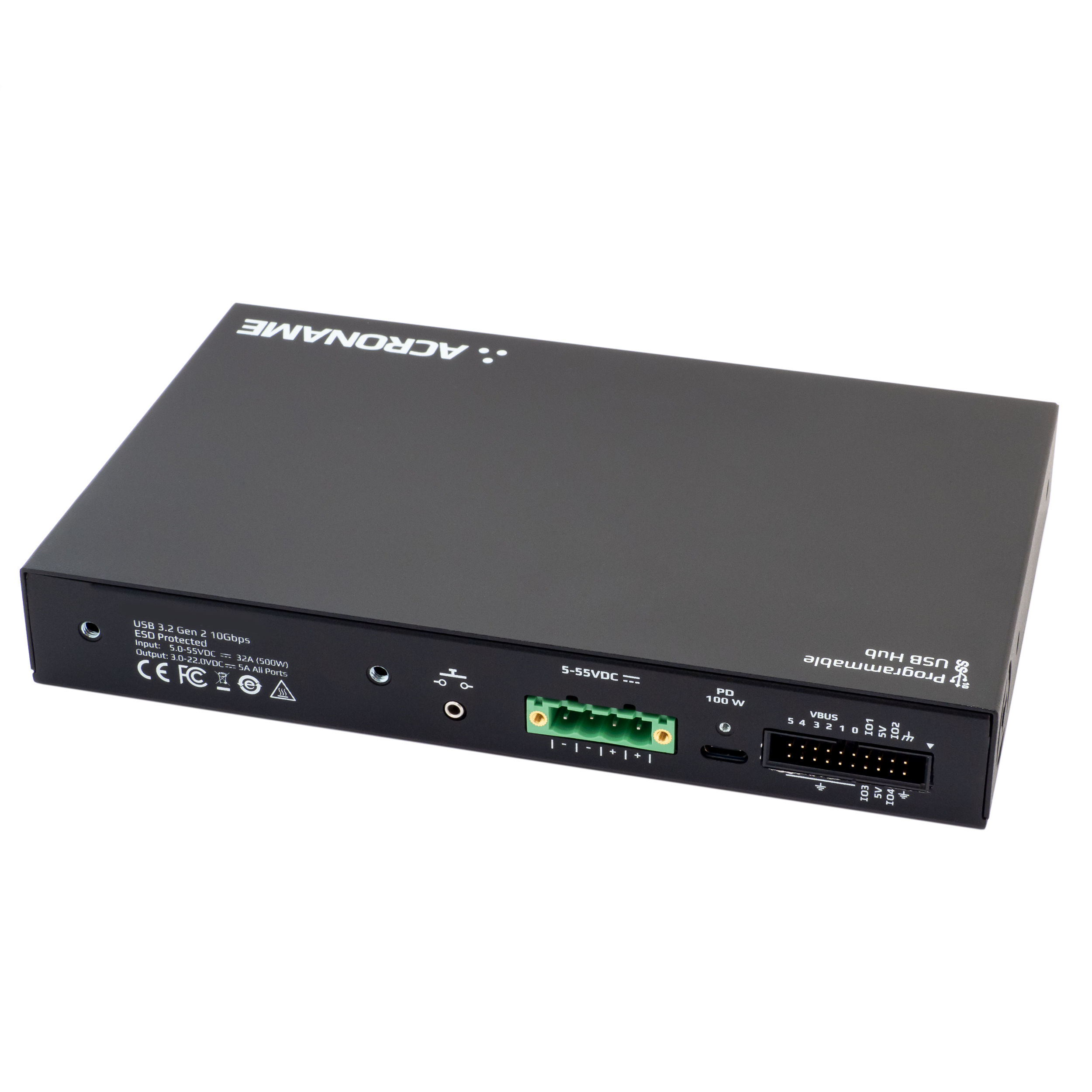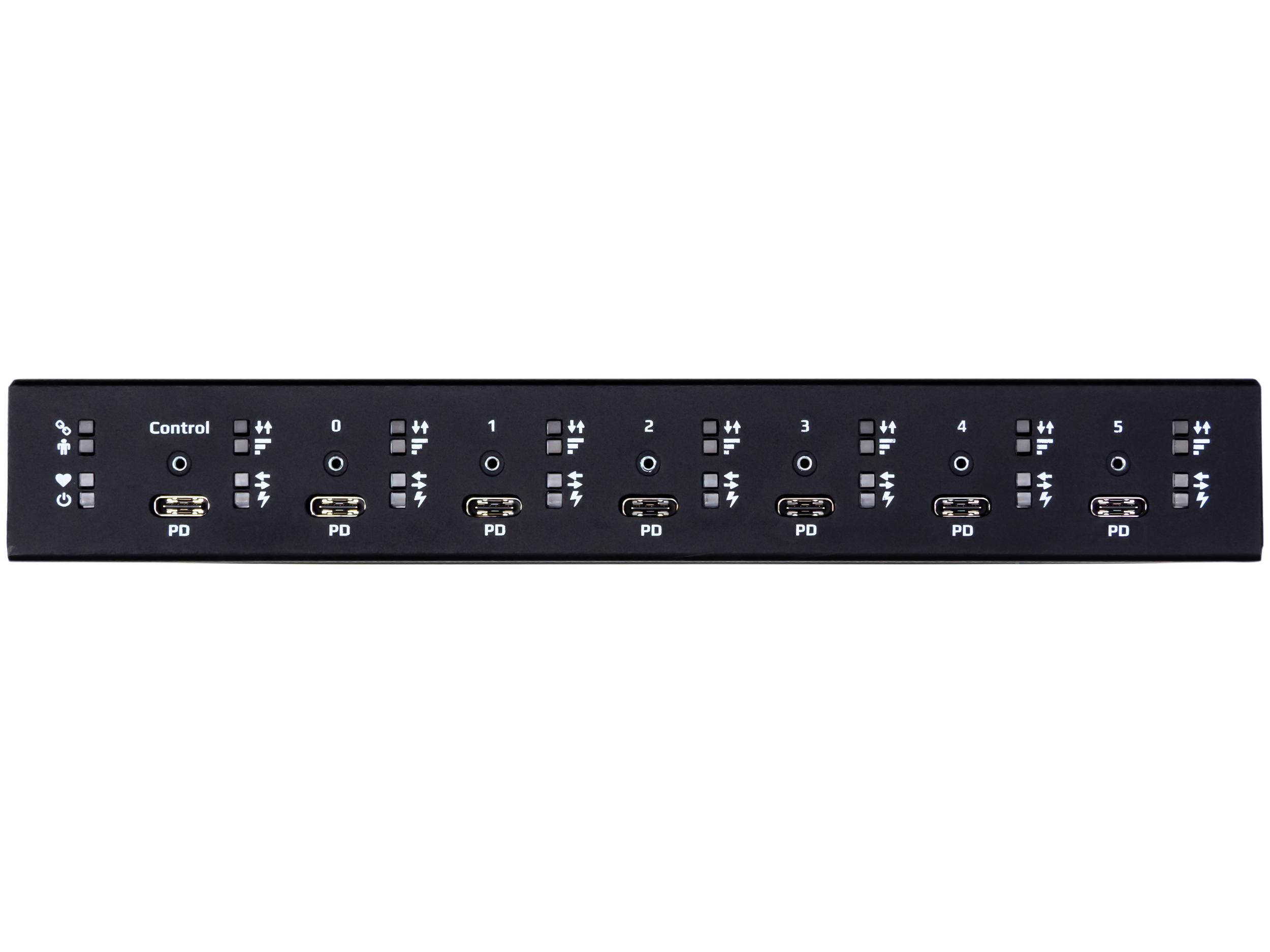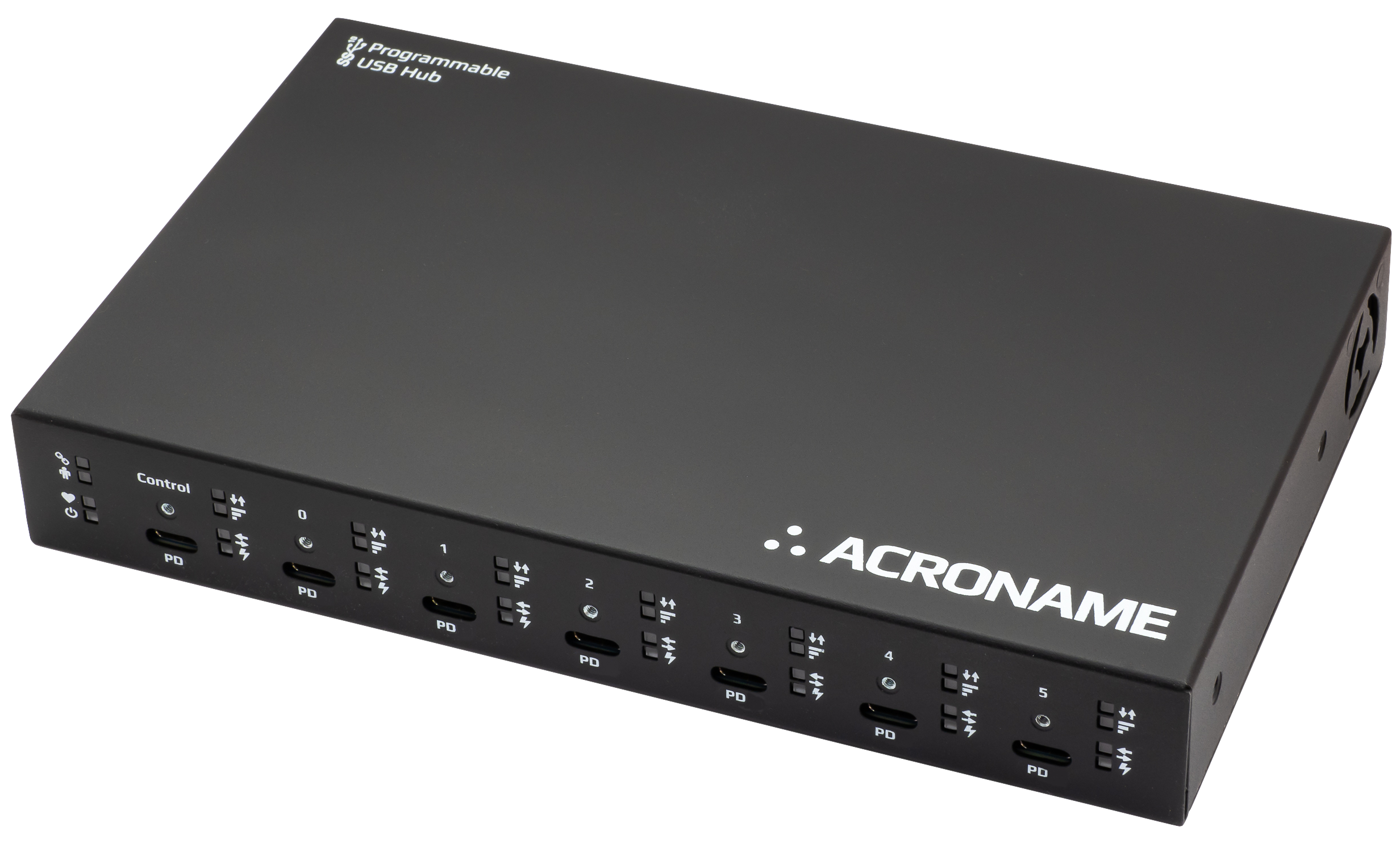 FINALLY A WAY TO MAKE USB-PD WORK CONSISTENTLY. 
THE USBHUB3C IS THE TOOL YOU NEED.
The USBHub3c from Acroname® is the world's first and only programmable USB Type-C® hub. It gives developers full control to validate, control, and test the limits of devices built on the Power Delivery (USB-PD) and USB specification. Simple software APIs allow control over all USB-PD parameters, including intentional error states, connectivity options and real time measurements.
Being bus-powered or self-powered, the USBHub3c can be used in any environment. The USBHub3c is the only bus-powered USB hub that supports PD sourcing. Even better, Acroname's AnyPort™ technology allows the host (UFP) port to be assigned to any of the 6 numbered ports. The hub also fully supports data and power role swaps including fastrole swaps.
Put simply: The USBHub3c most capable USB Hub in the world.
Cross platform GUI tool to helps explore device capabilities and control everything in your USB-PD life.
It is also a USB-C hub that doesn't suck. Get full 100W charging on every port. Being the only hub with AnyPort™, the USBHub3c give you the power to make any port an upstream or downstream port. Finally you can connect USB devices to multiple host machines and control which host connects to each device with simple softare control.
It's a hub. It's a USB-PD tester and analyzer. It's the most capable USB hub available.


A FIRST IN PD SOURCING VIA USB HUBS
The Acroname USBHub3c is the only bus-powered USB hub that supports PD sourcing. Engineers can sync power and charging sources, and custom-build power delivery profiles.     
Ports can be enabled and disabled independently. Each port can also be dynamically configured for upstream or downstream data at speeds up to 10gbps.

A software-controlled USB-C "flippable" connector allows for automated testing. Programmable, simple, and robust APIs in Python, C++, .Net, and LabView® support customization and controls.

The AcronameUSB-C Hub can withstand ±15K electrostatic discharge (ESD) strikes, safeguarding devices, budgets, and sanity.

PD Rule Editing and Mobile Device Charge Control grants engineers superior editing capabilities and responsiveness.
Uses
Mobile device test lab
USB-PD validation test
USB-C device production test
Desktop daily-driver
A/V conference rooms
End-of-line battery charge
Testing dual role data (DRD) devices
Testing dual role power (DRP) devices
The USB-C-Hub is a software-controlled, managed USB hub that enables complete USB data and Type-C Power Delivery (PD) testing.
Editions
With two editions, the USBHub3c is optiimzed to give you the best features for your applications. The USBHub3c Pro edition is ideal for validation and verification testing whether its done in a production environment or on an engineer's desk. The USBHub3c Pro supports fully variable voltage (3.0-20V up to 5A) and high power output on all ports; it also supports Qualcomm Quick Charge® (QC2, QC3, QC4, QC5). The USBHub3c Lab edition is ideal for deployment in applications requiring devices to be continuously connected such as mobile-device regression test labs. The USBHub3c Lab supports fixed voltage output on all ports of 5V up to 3A.

Features and Software Options
Several advanced software features extend the capabilities of the USBHub3c including (priced separately):
Vbus Override provides the ability to override Vbus voltage and current on a port to aid in validating a device's behavior when PD-source partner behave incorrectly.
External Load Output feature adds the ability to connect an external electronic load for testing a device's power source capabilities.
PD-Builder™ allows for editing of the USBHub3c's PD power sourcing profiles (PDO) incuding the ability to emulate other PD sources and supplies.
PD-Logger™ allows for real time PD messaging and Vbus voltage and current data on Type-C ports CH0-6. 
| Feature | Pro | Lab |
| --- | --- | --- |
| USB BC 1.2 | Yes | Yes |
| PD Source | 3.0-20V (up to 5A) | Fixed 5V (up to 3A) |
| PD Sink | 3.0-20V (up to 5A) | 3.0-20V (up to 5A) |
| PPS Variable Voltage Source | Yes | No |
| PPS Variable Voltage Sink | Yes | Yes |
| Quick Charge® | 2,3,4,5 | No |
| PD-Builder™ | Yes | No |
| External Load Outputs | Available | Available |
| Vbus Override | Available | No |
| USB-PD Logging | Available | Available |
| NIST Traceable Certificate | Available | Available |
ADDITIONAL FEATURES
8 USB-C (Type-C®) ports
- 6 Individually-controllable dual-data dual-power USB 3.2 Gen 2 (10Gbps) ports (Type-C)
- 1 Dedicated control port (can be controlled from any port)
- 1 Dedicated power input port
Individually enable Hi-Speed (480Mbps) and SuperSpeed (5Gbps/10Gbps) data lines on each port
Turn any port on or off via software control without physical interaction
Flip USB-C connections via software without physical interaction
Control and monitor via USB: through the dedicated Control Port or the assigned upstream port
Assign host/upstream or device/downstream role to any port
Assign power source or sink role to any port
Support USB-PD modes up to 20V/5A on each port
Supports USB-PD Fixed, Variable, Battery, and Programmable Power Supply (PPS) sink and source profiles
Ambient temperature range up to 50°C
ESD protected to ±15kV contact discharge (certified to IEC61000-4-2 Level 4)
Ships with (1) universal 100-240VAC 100W 20V/5A USB-C PD power adapter, (2) USB C-C e-marked 5A cables, (1) USB A-C cable
DIN rail mountable (Acroname part C31-DINM-1)
Fast Role Swap Support
FUNCTIONAL TEST USB-C DEVICES

Charge and verify data connectivity and throughput. Verify PD negotiation with automated cable flip.
MULTIPLE COMPUTER TESTING

Testing multiple devices against different computer systems is easily done using AnyPort™ technology. Software control to select which port becomes an upstream facing port enables better regression systems and testing for product reliability.
DUAL-ROLE DEVICE TESTING

Automate data role swapping for validating products that can act as both a USB host and peripheral as well as a power source or sink through USB-PD protocol. USB-C Hub's Power Delivery negotiation can facilitate changes to a DUT's  Vbus exercisable with an electronic load.
POWER DELIVERY SINK TESTING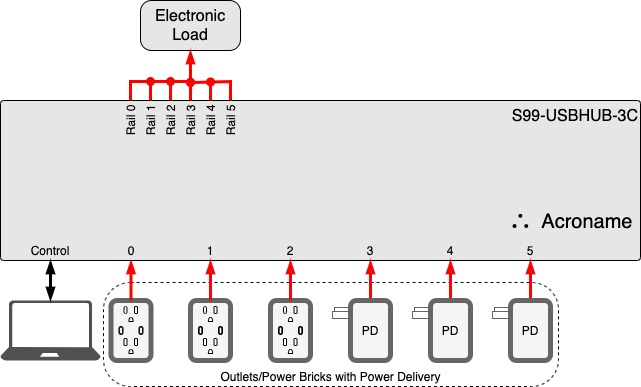 Power delivery devices can be fully validated by exercising and testing each PDO profile advertised. Once a PDO rule is selected, the USBHubC external rail switches can be enabled to electronically load the Vbus of the device under test.