aEther¶
Overview¶
What is it?¶
aEther is a software feature that encapsulates the BrainStem software object and provides synchronization across multiple threads, processes and computers by way of a client-server model.
How does aEther help me utilize Acroname hardware?¶
Simplified Synchronization: Tired of working with Mutexes? Simply create and connect to an object for each thread and we will handle the rest.

Improved Debugging: Want to know what's going on with Acroname hardware while your application is running or paused on a break point? No problem, just open up HubTool and monitor the devices state.

Remote Access: Is remote desktop too sluggish or overkill? With the proper network configuration you can access your devices from the other side of the world.
Communication Models¶
Models define a specific pattern or behavior. These behaviors have different attributes that might be more applicable for specific situations. The BrainStem protocol supports multiple communications models. By default the Client-Server model (aEther) is used because it is the most user friendly and adaptable.
Client-Server Model (aEther)¶
The Client-Server model works by routing all traffic through the operating systems socket layer. When the first connection is made a "server" and "client" pair will be created. All subsequent connections will be "clients" only. Note that the server is owned by the first user to connect to the device. Deletion of that object will result in ALL clients being disconnected. The server encapsulates the device by way of the direct connection model (discussed below). By doing this the server can manage simultaneous access of many clients.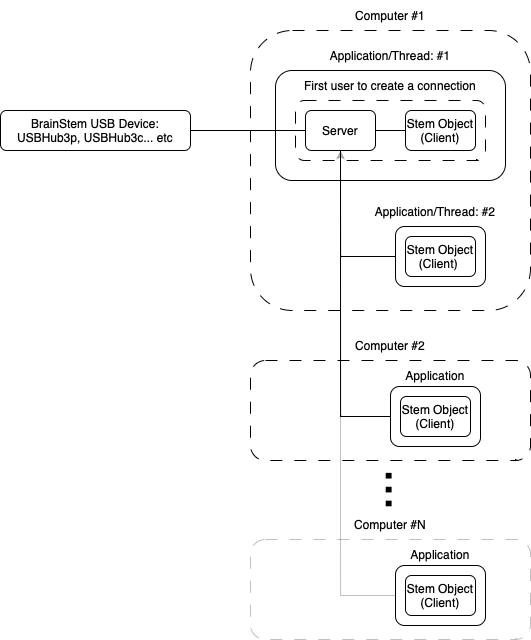 Direct Connection Model¶
The direct connect model is Acroname's original model and is the core of the server in the client-server model. In this model the BrainStem software object owns the device communications path and is generally thread safe. When using this model the device is NOT accessible in any other processes nor is it accessible by another computer. This model is slightly faster, but more restrictive.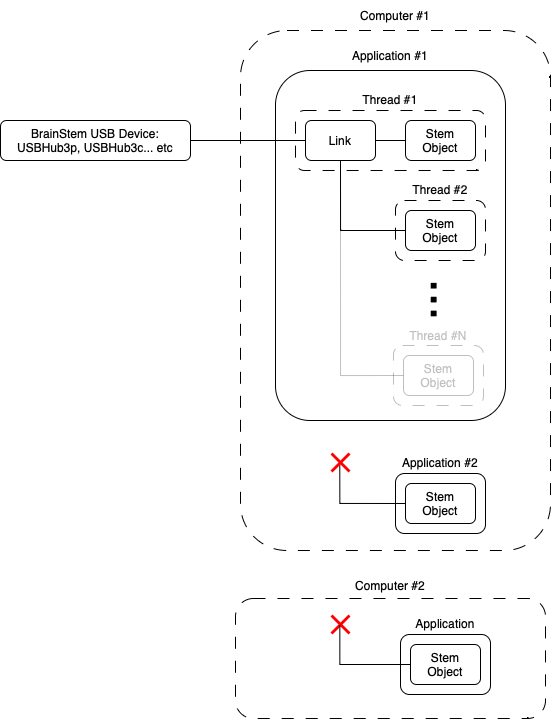 To select this configuration it must be done through the aEtherConfig structure.
#include

 

"BrainStem2/BrainStem-all.h"





USBHub3c

 

stem

;




Acroname

::

BrainStem

::

aEtherConfig

 

config

;




stem

.

getConfig

(

&

config

);




config

.

enabled

 

=

 

false

;





//NOTE: This must be done before connection




stem

.

setConfig

(

config

);





stem

.

discoverAndConnect

(

USB

)



import

 

brainstem





stem

 

=

 

brainstem

.

stem

.

USBHub3c

()




config

 

=

 

stem

.

getConfig

()




config

.

enabled

 

=

 

false





#NOTE: This must be done before connection




stem

.

setConfig

(

config

)





stem

.

discoverAndConnect

(

brainstem

.

link

.

Spec

.

USB

)