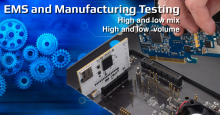 When it comes to advanced and cost sensitive electronic products, it remains vital to accurately test these devices during manufacturing and assembly to make sure they provide what the consumer expects and that each and every feature works how it should, right out of the box. The last thing a company needs is for faulty product to reach the hands of hard-won customers. Having disappointed consumers and managing recall related expenses are important problems to be avoided. But at what cost?
Hiring a Contract Manufacturer (CM) to build your design is expensive. Selecting a CM overseas might be a cost-effective manufacturing option, but it puts you in a vulnerable position with regards to testing. Even when using US based CMs, rarely do they have expertise in manufacturing functional testing.  And, they are incentivized to charge a premium for these test services. CMs also take little or no responsibility for defective products shipped to the end customer or consumer, which reflects poorly on you and your business in the end. 
This is where Acroname can help.  While you could easily spend $20,000-30,000 using any other test company for a single automated test system, with Acroname, your initial testing costs will be greatly reduced right up front.  Traditional manufacturing test systems are expensive because they use standard bench-top test equipment. A test system based on Acroname's Manufacturing Test Modules (MTM) usually costs less than half of this without giving up performance, versatility and robustness. 
Take a more in-depth look at how our automated test systems can save you time and money.  Contact us today for more information on how Acroname-based modular systems (MTM) can be set up to test your product.
The Base Setup
Unlike many other modular test equipment systems (e.g. PXI, LXI, CompactRIO, etc.) there is no minimum configuration for MTM. Any of the MTM modules can stand alone or be networked with other MTM modules into a highly specialized test system. The best way to get started with MTM is with our quick-start kits: the MTM Starter Kit at just $595, and the MTM Evaluation Kit for $895. You can also simply build your own kit tailored to your needs using the modules specific to your test requirements.
These pre-configured kits help you get started running tests and evaluating the multitude of programming APIs. The kits can be expanded using other MTM modules as you refine your needs. These kits, and the MTM modules, cost a small fraction of even the chassis used by other modular test systems. They also take a fraction of the space of other modular test systems. While this may seem unimportant, it is a main consideration CMs use in calculating your test cost since line space is a valuable resource.
Use Only What You Need With MTM
Why spend thousands of dollars on large, out-of-the-box functional test systems just to get started? Acroname's modular MTM system starts with just the development board.  Based on what you need you'll buy the additional modules for those specific tests for hundreds of dollars, not thousands. Many traditional test systems use rack-mount or modular versions of standard desktop test equipment. For example, a simple 6.5-digit multimeter might be used to verify voltage rails on a device-under-test. Of course, such a multimeter has vastly more capabilities than just measuring low-voltage rails which you will never use in your manufacturing tests. These additional features cost money - wasted money. The multimeter is far over-specified even just considering the multimeter's voltage measurement capabilities. That is, for most manufacturing testing, you don't need 6.5-digits, or 5.5-digits. In fact, most test limits could be reasonably accomplished using just a few bits of resolution.
MTM offers an optimized feature set without sacrificing versatility of the modules. Instead of using highly integrated, costly, multifunction equipment (like the multimeter example), MTM gives you subsets of functionality at incredibly low costs. Modules all cost less than $500 and give measurement channel densities that far exceed PXI or Teradyne system. 
If you're unsure about how to best use MTM for your test systems, Acroname offers manufacturing consulting to help you create the best automated test system possible for your product. These services range from simple reviews of your designs to full turn-key test system development.  Give us a call or drop us an email, we can help get you started right away. 
Scalability & Replication
Getting the first test system up and running is just the first hurdle. Traditional functional test (FCT) systems (FCT) can take weeks to replicate since they rely on clumsy test-interface-adapters, wire-wrapping to connector blocks and assembling large 19" racks full of equipment. Then there is the enormous amount of time spent in bring-up and debug of each system. Replicating an MTM fixture is nothing like this. Since all the test equipment fits inside the fixture, there is no need for connector blocks or wire wrap. Replication can be completed in hours instead of days. One Acroname customer needed 1 month for each of their old FCT system's deployment. Using MTM methods, they built out entire lines built of hundreds of FCT systems in just a few weeks. Whether you're building 100 or 100 million devices, MTM scales to your needs.
Not only are functional test systems easier to replicate, more scalable and more affordable with Acroname MTM, they are also more efficient when scaling. Once you have one system set up and programmed, you can easily duplicate the design to do panel-level testing. The powerful BrainStem networking allows all MTM modules to seamlessly communicate to each other through a single connection to a host computer. Acroname successfully changed a 1-up FCT test system for a major Point-of-Sale product to a panel-level, 16-up tester while also cutting test time by 5x and improving throughput by 75x.
Seamless, Simple APIs in your Language
All MTM modules use a simple application programming interface (API): BrainStem development API. The BrainStem API maintains a consistent interface across all MTM modules, target platforms of Windows, Mac OS, Linux, and across languages of Python, C, C++, .NET, and LabVIEW. And there are no complicated copyright terms or licensing fees for developing or deploying. All software you develop using BrainStem is truly free to use anyway you need. 
Our API reference guide can get you up and running quickly. Our BrainStem Development Kit is full of easy to follow examples, and we have some good  video tutorials available.. And if you ever need help, our support team is staffed by actual test engineers who can quickly understand and address your questions.
A New Paradigm in Manufacturing Test
Acroname's MTM is the instrumentation of choice for production testers. 
The 6-R's of manufacturing test:
Reasonably priced
Reliable
Repeatable
Replicatible
Reproducible
Reusable
MTM meets all of these needs in a very small form factor. 
When you're ready to get away from large, expensive validation equipment in your manufacturing line and get products to market sooner than ever, contact Acroname.