Industrial Managed USB Control Hubs and Switches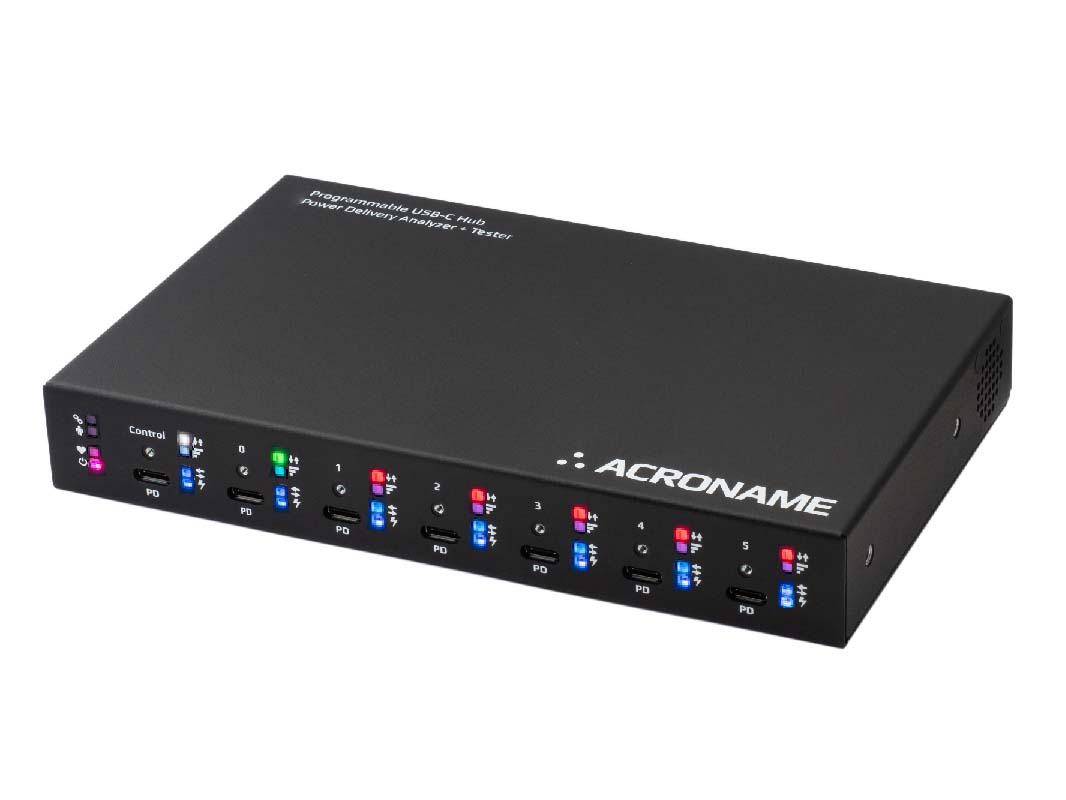 TEST THE LIMITS
With Acroname, you can test the limits, investigate compatibility, manage and mitigate battery swelling and keep electrostatic discharge at bay.
ENABLE AND DISABLE PORTS
INDIVIDUALLY
Ports can be enabled, disabled, programmed, controlled and monitored individually. Measure currents and voltage, detect enumeration and change upstream port connections.
SOFTWARE- CONTROLLED
Simple APIs in C++, Python, and LabView allow customization so you can monitor data lines, power lines and full ports.
MITIGATE BATTERY SWELLING AND ESD
Measure and control current limits and voltage to avoid battery swelling.
Electrostatic (ESD) protection up to ±15kv and exceeds IEC61000-4-2 standards.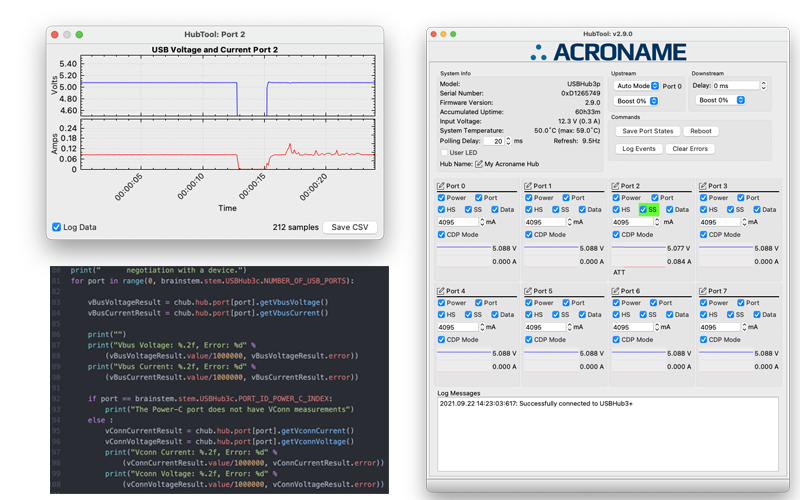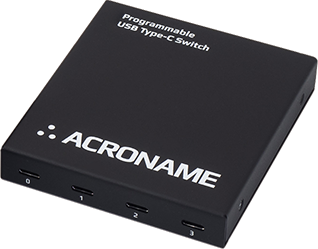 USA-BASED DESIGN, ASSEMBLY, AND SUPPORT
We design, assemble and test all Acroname USB Hubs and Switches in the United States. Our support, customer service, and sales teams are based in Boulder, Colorado.
AVOID RANSOMWARE
Automate your organization's manual backups with Acroname USB Hubs. With up to 8 ports and fully programmable, software controls, you can set and schedule backups.
USE CASE
Software Regression | Mobile Device Testing

Acroname provides software control with a simple, elegant API to monitor and manage your USB control hub exactly the way you want to. Enable ports in exactly the sequence you choose and restore COM ports in the correct order. Accurately monitor the power in your test environment. Enable any port via software to ensure that you are only communicating with the DUTs you want.
Manufacturing test

We designed Acroname hubs with world-class hardware that you can trust to keep running. We understand the rigors of production testing and the reliability demanded by manufacturing teams. High power drive requirements? Short circuited DUT? Reversed power supplies? No problem. Even ESD certification labs can't break these hubs. Compare Acroname hubs with others to see for yourself: Acroname hubs lead the industry in uptime and robustness.
Battery conditioning

Acroname hubs accurately monitor voltage and current on each port, so you know exactly how much energy is used to charge your device or battery. Once your device is charged to your specifications, you can disable power on that port to ensure that the device does not get too much energy or overcharge.
A/V in Meetings

A/V during meetings just got easier. When meeting attendees bring their own devices, Acroname USB hubs tame the chaos. Easily share room resources, automatically switch between projectors, computers, and devices, and monitor connected devices so information and equipment are up and secure.
System backup and cold-spares

With Acroname USB Hub 3+, you can minimize the risks involved with backing up your system. Don't let ransomware take your connected USB backup drive! With an Acroname Programmable USB hub, seven backup drives are used together to create seven different daily backups — one for each day of the week. For extra protection, you have the option to safely disconnect the drives, use a batch file for the command, or set up two hubs for extra backup. Read our blog to learn more about how our USB Hubs can do your system backup for you.
Harsh industrial environments

Not all hubs are created equal. Many industrial USB hubs are simply consumer-grade hubs that are repackaged to metal enclosures. Our engineers designed Acroname hubs from the ground up with careful attention to the types of issues that cause hubs to fail, including ESD strikes. Come see how Acroname hubs exceed the toughest ESD standards in the industry and some of the industry-leading tools we used to do it.
Comparison TABLE
 
USBHub3c
USBHub3+
USBHub2x4
USB-C Switch
CONNECTIVITY
Many devices simultaneously to one of two hosts
Many devices simultaneously to one of two hosts
One of four devices/host to one host/device
One of four devices/host to one host/device
PRICE
$ 1200 (Pro Edition)
$ 900 (Lab Edition)
$ 825
$ 425
$ 595 (passive)
$ 695 (redriver)
Device Ports
8 programmable
8 programmable
4 programmable
1 or 4 USB-C
Host Ports (upstream)
6 Individually-controlable
dual-data dual-power
USB 10Gbps ports
2 (USB 5Gbps type-B)
2 type mini-B
4 or 1 USB-C
Control Ports
1 dedicated
Shared with both host ports and 1 dedicated (type mini-B))
Shared with both host ports
1 USB-C
Daisy Chain Capability
Yes
Yes (dedicated daisy chain port or any downstream port)
Yes (by using downstream port)
yes
USB Speeds
High Speed (480Mbps) 
Super Speed (5Gbps/10Gbps)
data lines on each port
Low Speed (1Mbps)
Full Speed (12Mbps)
High Speed (480Mbps)
Super Speed (5Gbps)
Low Speed (1Mbps)
Full Speed (12Mbps)
High Speed (480Mbps)
Low Speed (1Mbps)
Full Speed (12Mbps)
High Speed (480Mbps)
Super Speed (5Gbps/10Gbps)
USB Link Speed Reporting
YES
YES
No
No
Individual Port Enable/Disable
Power
USB Data
USB SS Data
Full port (power and data)
Powe
USB Dat
USB SS Data
Full port (power and data)
Power
USB Data
Full port (power and data)
Power
USB Data
USB SS Data
CC
SBU
Full port
USB Charge Modes
SDP
CDP (full BC 1.2 support)
SDP
CDP (full BC 1.2 support)
SDP
CDP (full BC 1.2 support)
USB-PD all versions
USB Charge Current
support USB-PD modes up to
20V/5A on each port
up to 5A per port, total 65W max
Up to 2.5A per port
Up to 5A
USB Current Limit Programmability
Programmable up to 5A for
each port
1mA steps 0-4.095A
Discrete steps (per USB BC1.2)
NA
USB Current Measurement Resolution
15mA
1mA
10mA
1.95mA
USB Voltage Measurement Resolution
1mV (Euro-style connector only)
8mV
10mV
8mV
Input Voltage Range
4.5V-48V
9V-24V
9V-24V
5V (USB-PD)
Input Voltage Monitoring
YES
YES
YES
YES
Input Current Monitoring
YES
YES
NO
NO
Internal Temperature Monitoring
YES
YES
YES
NO
Input Power
BUS-powered from any
USB-C power delivery
5.08mm terminal block
Euro-style 4-pin terminal block('Euroblock')
Barrel jack (5.5mm OD, 2.5mm ID)
3 Position Terminal Block Header
(+, -, earth)
Barrel jack (5.5mm OD, 2.5mm ID)
USB-C
ESD Performance
+/-15kV (IEC61000-4-2 Level 4)
+/-30kV (IEC61000-4-2 Level 4)
+/-30kV (IEC61000-4-2 Level 4)
+/-30kV (IEC61000-4-2 Level 4)
DIN Rail Mountable
Yes (Acroname part
C31-DINM-1)
Yes (Acroname part
C31-DINM-1)
Yes (Acroname part
C31-DINM-1)
Yes (Acroname part
C31-DINM-1)
Programming Interface
BrainStem API (C, C++,
Python), TestStand, LabView
BrainStem API (C, C++, Python),
TestStand, LabView
BrainStem API (C, C++, Python),
TestStand, LabView
BrainStem API (C, C++, Python),
TestStand, LabView
Case Dimensions (L x W x )
7.95 x 4.88 x 1.17 inches
(202.22 x 123.85 x 29.69 mm)
4.19 x 5.42 x 1.05 inches
(106.50 x 137.78 x 26.69 mm)
7.75 x 3.4 x 1.05 inches
(95.25 x 86.36 x 26.67 mm)
3.4 x 3.75 x 0.63 inches
(86.4 x 95.25 x 16.02 mm)
 
BUY NOW
BUY NOW
BUY NOW
BUY NOW