Master your USB in Conference Rooms with ControlRoom.
Acroname's ControlRoom allows you to remotely enable, disable, monitor, and reset USB ports in the connected conference rooms. This means you can solve many issues that would otherwise require a "physical" reset - without ever leaving your office chair.
How often have you been in a conference room, wasting the first 10-15 minutes just trying to get the in-room equipment to function correctly? If this scenario sounds familiar, you're not alone.
An analysis conducted by Acroname's support team revealed that equipment-related issues in conference rooms often arise from USB connections that require a reset - unplugging and plugging of a USB device. On top of the time spent troubleshooting, locating specific USB connections can feel like a frustrating game of hide-and-seek. Connectors are often hidden behind televisions, tucked away in closets, or placed under tables, making them out of sight and difficult to reach. Meanwhile, your clients are left waiting.
Acroname's ControlRoom, in combination with the USBHub3c 6-port USB-C/PD host-switching hub, offers the ultimate solution for conference rooms and meeting spaces. ControlRoom allows you to truly reset (unplug and plug) your USB connections quickly, easily and without any physical interaction. Now, USB installations can be placed where appropriate, eliminating the need to adjust placement to account for physical access in the field. 
With the ControlRoom application running on the local in-room host, ControlRoom provides:
USB device diagnostics and telemetry for connected devices
Reset, and turn USB devices on or off
Comprehensive USB system / device tree visualization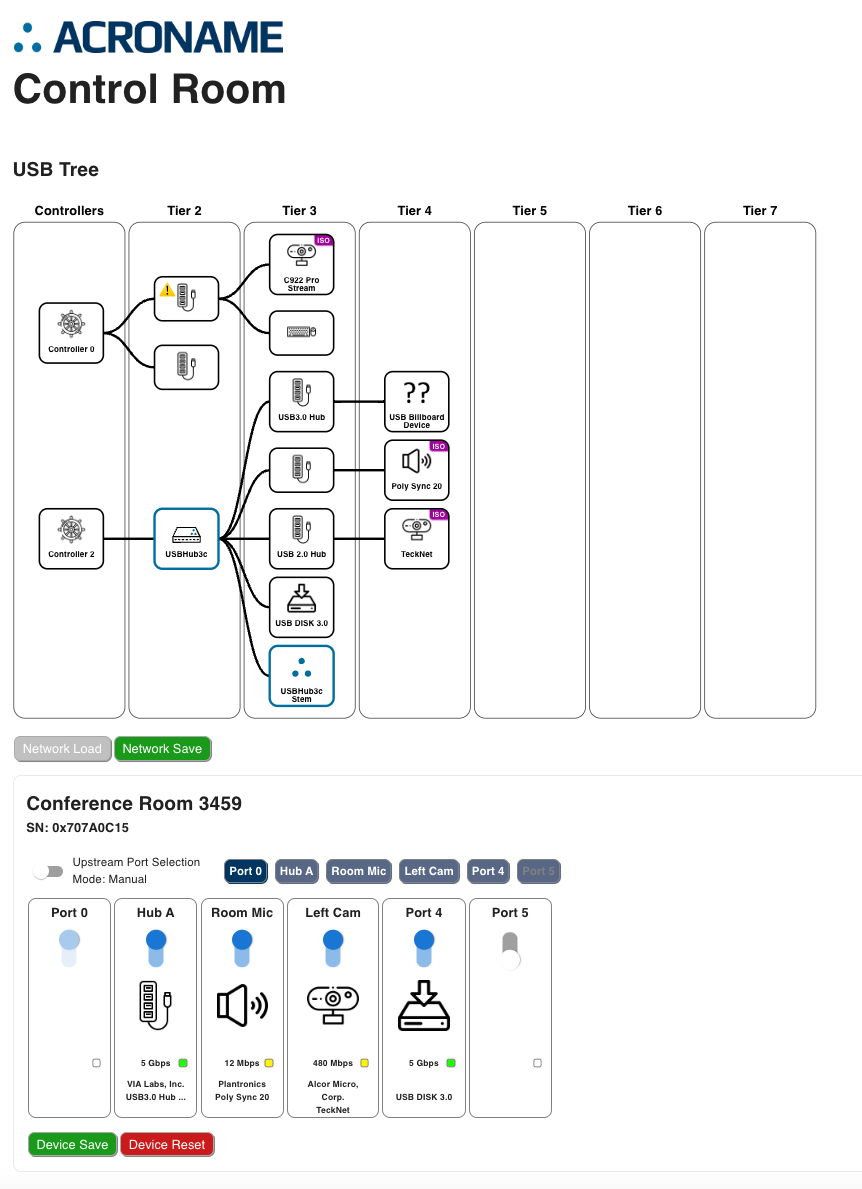 Discover the Benefits of Built-in Diagnostics
Acroname's extensive experience in USB testing applications means that all of Acroname's host-switching hubs have comprehensive internal USB monitoring and control capabilities. ControlRoom is a lightweight software application running on the local in-room machine, which provides visibility and control of USB connections. It does this through a separate USB Control Port connection to the USBHub3c. By combining the USB connectivity information available from the USBHub3c with host system information, ControlRoom offers unprecedented visibility into the USB connections of devices connected to USBHub3c.
Self-Healing USB Connections
ControlRoom, available for the USBHub3c host-switching hub, allows for quick, easy and independent reset cycling of any of the USBHub3c's connections. Now you can apply a self-healing reset - a true unplug/plug action - to any device on your USBHub3c without physical interaction or time-consuming and costly truck rolls.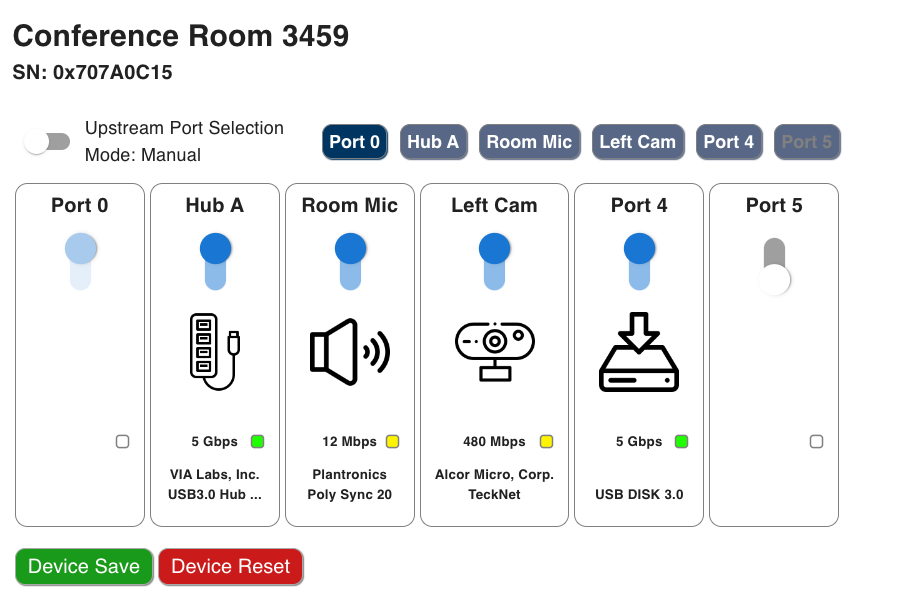 Graphical Visibility to USB System Issues
By combining USB port/hub information gathered from the USBHub3c with system-level USB information available from the host OS, ControlRoom provides a meaningful visual representation of the overall USB system. Now, you can quickly and graphically see your room design, the USB device connections and hub layers in an easy-to-read format. If someone adds a new device or changes cables to one which adds a hidden USB hub, you'll see it immediately. Quickly compare the working design created in the lab to what is physically installed.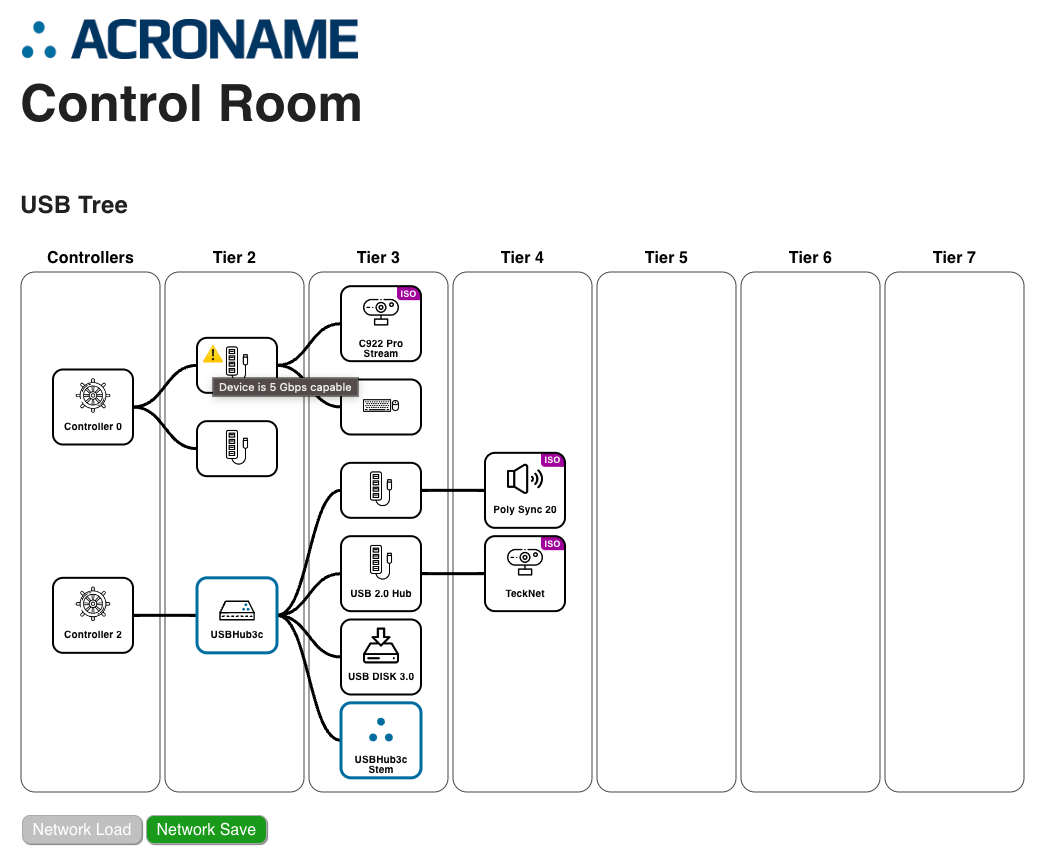 Detect USB Cable or Connection Problems
ControlRoom can assess the desired connectivity speed reported by a USB camera to the host OS, then compare it against the actual established connection speed detected by the USBHub3c. If a mismatch is detected, ControlRoom can alert you that the camera may not have an optimal connection, leading to low-resolution video or other sub-optimal performance.
 
Complement and Expand Room Monitoring Services
ControlRoom provides an elegant TCP/IP endpoint interface, allowing other machines on your network to monitor and control your USBHub3c concurrently. This interface means you can monitor and support services to manage your USB connections from any location, providing near real-time visibility into USB connections established or removed from the USBHub3c in the field.
 
USB Port Control Software
ControlRoom™ is the world's leading interface to remotely support USB installations in conference rooms. When combined with Acroname's Programmable USB hubs, ControlRoom gives remote control over all the USB ports in a conference room. Not only can you turn ports on and off, you can monitor power usage, and see which ports are connected to devices. This telemetry allows for rapid debugging of installations without having to be on-site; saving your IT department precious hours of troubleshooting.
Cross-Platform Control and USB Hubs
Our hubs and the ControlRoom software tools are compatible with Windows, Mac, Linux, and all USB accessories. Being OS agnostic allows our hubs and software to work in virtually all environments with a variety of peripherals.
USB Peripheral Control
ControlRoom is a robust and versatile software tool designed to streamline your system management needs, with a particular focus on USB device monitoring and control. Tailored for both individuals and businesses, this tool is compatible with a wide range of operating systems, making it the go-to choice for professionals across various domains.
Key Features:
USB Device Monitoring: Get a real-time view of all the connected USB devices on your system. The intuitive interface lists all active USB connections, including device type, manufacturer, connection status, and more. Easily identify and manage your peripherals, storage devices, and other USB-connected hardware.
Performance Analysis: Assess the performance of your USB devices with detailed analytics. Diagnose speed issues, connectivity issues, bad USB cables, and other performance metrics with just a few clicks.
Device Management: Control the connectivity of USB devices, and perform an unplug-plug cycle without going in the room. System Integration: Seamlessly integrate ControlRoom with your existing system management tools such as Teams, ZoomRoom, Q-SYS. Benefit from comprehensive control over not just USB devices but also other hardware and software components within your system.
User-friendly Interface: Its sleek and intuitive design makes ControlRoom accessible to users of all technical skill levels. From simple device tracking to in-depth analysis, all features are just a click away.
Privacy: Ensure all camera, microphone, and recording devices are completely disabled when not in use.
Comprehensive Support: Benefit from expert technical support, regular updates, and an extensive knowledge base to ensure uninterrupted and optimal usage.
Application Areas:
Corporate Conference Rooms
Educational Institutions
Home offices
ControlRoom is the ultimate solution for all your USB device management needs. Experience efficiency, security, and control like never before.
See Acroname Engineering give a demo of ControlRoom from InfoComm 2023:
ControlRoom Demo
 
Upgrade Your Conference Room Experience with Acroname's ControlRoom and USBHub3c, and Embrace USB Solutions for Conference Rooms.