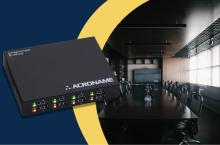 Acroname has teamed up with Poly to bring you a simple and user-friendly USB switching solution for your BYOD conference room.
Add BYOD, or, "Bring Your Own Device" to Your Next Conference Room Meeting
Plug in your phone, laptop, tablet, or another personal device into USBHub3+ and the in-room USB camera and peripherals transfer to your device.

AV Setup For Conference Rooms Can Make or Break a Meeting
Thanks to remote offices and global collaboration in the business world, adding 4K video conference capabilities to meeting rooms is now frequently relied upon for communications in today's organizations. Most meetings spend the first 5-10 minutes setting up in-room equipment. You need a system that allows clients to effortlessly plug in and connect to the in-room equipment, and reliably return connections to the control of the in-room host when they leave.
Enter: The Acroname USBHub3+ "BYOD" AV Setup
With an Acroname USBHub3+, anyone can "Bring Your Own Device" and simply plug in for complete use of the USB peripherals in the conference room.
When a user's host device connects, the hub automatically switches USB cameras, microphones, and other peripherals to the user's device instantly and seamlessly.
No fighting with cables, buttons, switches, or other complicated setup. Our devices are designed to "set and forget."
And just as importantly: as soon as the user unplugs their device from the Acroname hub, USB peripherals revert automatically back to the in-room host computer. No additional actions are required.
Why Use the USBHub3+ for Video Conferencing?
Video conferencing has the capacity to make a greater impact than ever before, as we rely on screens to mediate our face-to-face interactions. Why use the Acroname USBHub3+ in your conference room setup? Here are some of the benefits of using USBHub3+:
Simple installation; no programming needed. Switching USB peripherals to your laptop or personal device is as simple as plugging in a USB connection to your machine. The USBHub3+ does not need to be programmed into a system controller. The Acroname team has made host auto-switching a default behavior of the USBHub3+, so you can install the USBHub3+ without the need for a room controller or requisite programming.
Spend your time meeting with team members and customers. When you can't meet in person, your video interactions are the next best thing to communicating effectively in a meeting. With the Acroname USBHub3+ as part of your meeting room, you can focus on communicating with other meeting attendees right away instead of starting the meeting with equipment and setup-related distractions.
How It Works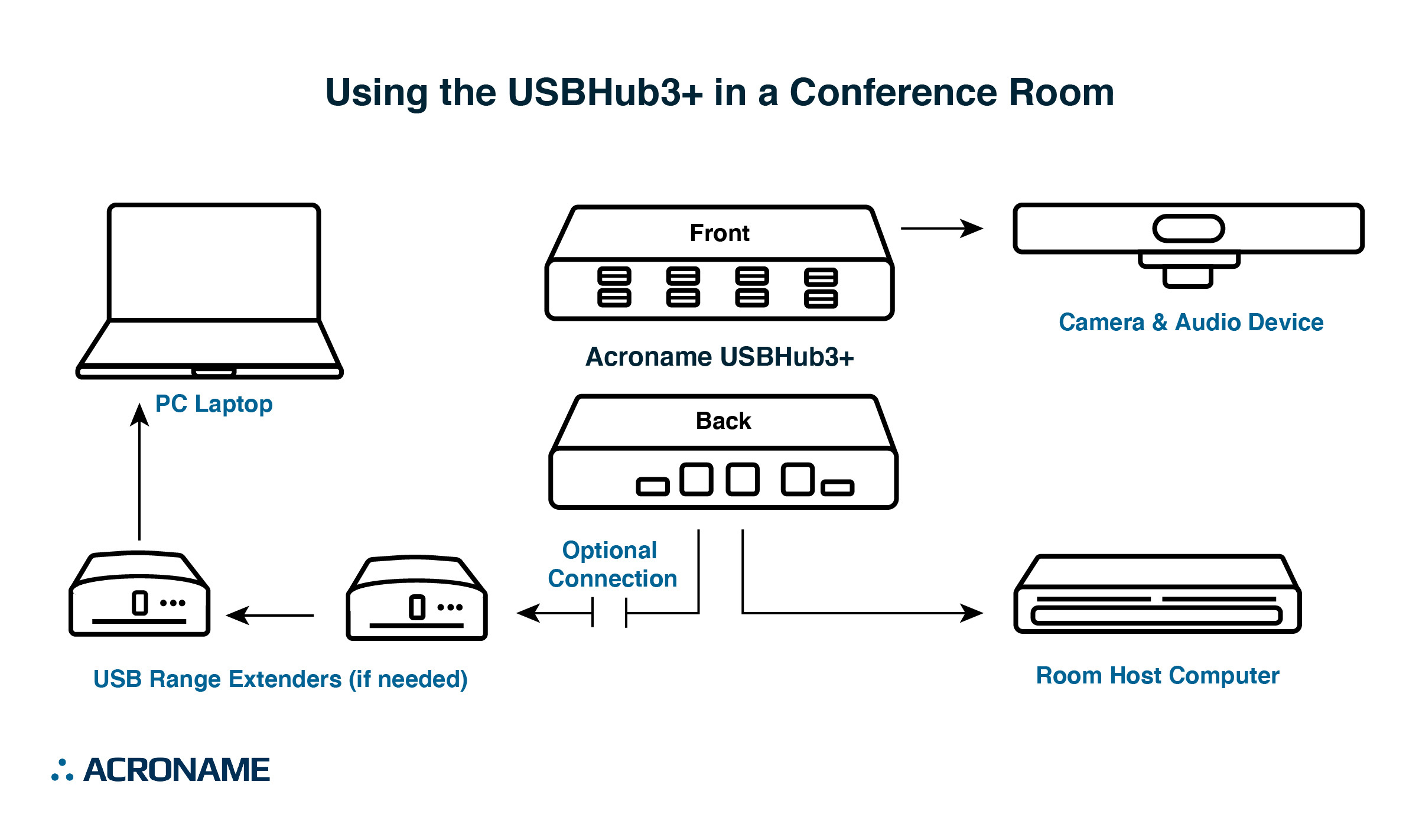 The above diagram is one of the many ways to set up a conference room using Acroname's USBHub3+.
A host computer or Teams Rooms host is typically located in the conference room or in an equipment rack. This in-room host connects to one of the two upstream-facing host ports on the USBHub3+, also typically located physically near the in-room host.
The second host port on the USBHub3+ is connected to a USB cable that is available on the meeting room table and can be attached to a room participant's BYOD host machine.
When there is no BYOD host attached to the table-top BYOD cable connection, the in-room computer will have access to the attached camera and other USB peripherals.
In many installations, a compatible USB range extender may be needed to extend the BYOD host connection to the USBHub3+. The extender allows a USB connection on the conference room table, desk, or podium to extend to the USBHub3+. This allows a presenter to bring their own device and plug in directly using USB.
When a room participant plugs in their device to the extender, the USB camera and peripherals quickly and seamlessly switch from the room host computer to the presenter's own device. The presenter now has control over the camera, audio equipment, and other peripherals attached to the hub.
Once the presenter is finished and unplugs their device, these devices quickly switch back to the room's dedicated host computer. This behavior is referred to as auto-switching.
Because of it's robust and reliable operation, USBHub3+ is trusted by Poly for use in the Poly BYOD Kit, which includes everything you need to add BYOD functionality to your conference room. The Poly BYOD Kit includes the USBHub3+, a compatible USB range extender and all necessary cables for your installation.

Works With All Major Video Conferencing Software Packages
Since the USBHub3+ auto-switching function operates without the need for software control or special drivers, this solution works with all major video conferencing platforms that support external devices: including Zoom, Zoom Rooms, Cisco WebX, Microsoft Teams Rooms, and most other platforms. If you have questions about your particular hardware or software setup, please reach out to us.
As remote work continues to expand, seamless integration of equipment and ease of use of the conference room is critical for your meeting room clients. The Acroname USBHub3+ and Poly BYOD Kit is simple and easy to add to your room and can help eliminate equipment-related confusion for your clients.
Is it time to add BYOD to your conference room?
See just how easy it is to set up USBHub3+ as a BYOD host auto-switcher:
USBHub3+ BYOD Auto-switching Out-of-the-Box Demo
Are You Ready To Upgrade to BYOD in Your Conference Room?