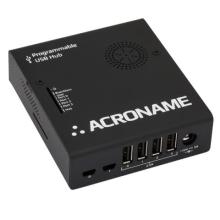 Acroname, developer and distributor of expandable hardware and software products for embedded robotic, automation, control systems and manufacturing testing, has unveiled the first fully programmable USB hub for automated regression testing, manufacturing test and measurement.
The software-controlled USBHub2x4 features four USB 2.0 ports with individually controlled data and power lines, and independent current and voltage measurements. Each port on the USBHub2x4 delivers 2.5A simultaneously for high-speed charging of all four devices and complies with the USB Battery Charge 1.2 specification. Two upstream ports enable multiple devices to be shared between two host computers, making the USBHub2x4 ideal for software regression testing, smartphone software development and validation, manufacturing testing, burn-in and battery testing and USB device charge-curve testing. Enclosed in a rugged aluminum housing and fully protected against ESD strikes to 15kV (IEC 61000-4-2 level 4), the USBHub2x4 is intended to thrive in harsh production and manufacturing environments.
Acroname's BrainStem® technology provides simple cross-platform programmability with APIs in C++ and Python. Acroname's HubTool graphical software makes manual control of the hub simple, and an embedded microcontroller enables a programmable delay for enumerating downstream devices and writing your own embedded applications. The hub can even programmatically boost USB data signal levels to improve USB signal integrity.
"With full software control from a variety of programming languages and support for most charger emulation modes, the USBHub2x4 is unique in its ability to support all manners of USB device regression testing and development," said Acroname CEO and Principal Engineer Justin Gregg.