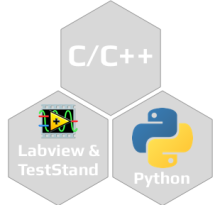 The long awaited BrainStem LabVIEW API is finally here!  
Well, kind of...  
Currently, the API has only been completed for the USBHub2x4 and the USBHub3P+. However, the framework has been laid for all BrainStem devices and USB hubs, and we will soon announce when that has been completed as well.  
Acroname has also decided to make this project open source so that our customers can customize as per their needs.  This project can be found on our public github account under Public/Acroname/LabVIEW_API.  The LabVIEW_API folder contains everything you need, including the source files.  
If you navigate to:  
"Public/Acroname/LabVIEW_API/LabView_BS_Project/Deploy" you will find the standalone packed library for working with Acroname USB hubs.
And, last but not least, is our latest video where Mitch at Acroname explains how to download, navigate, use and work with the packed library!