The problem
Imagine this. You have a perfectly equipped conference room. The PC is linked to the room's audio and video devices such as a webcam, microphones, and speakers, allowing seamless use of platforms like Zoom, Microsoft Teams, and Google Meet. But what about the times when your colleagues want to host a meeting directly from their laptop?
The optimal solution would involve a simple plug-and-play connection using HDMI and USB cables, enabling full use of the conference room's higher-quality A/V peripherals. When the meeting ends, the system should default back to the conference room PC without any manual intervention. This entire setup, ideally, would be tucked away in a secure enclosure, away from well-meaning interference.
This article will primarily focus on USB-A switching. For a robust USB-C switching solution, check out the Acroname USBHub3c.  But before getting into USB switching we must briefly touch upon the topic of video switching.  
Video Switching Essentials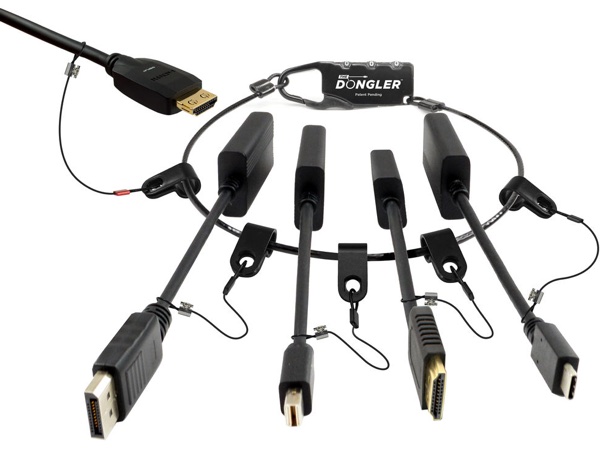 The future of conference room switching is eventually to have video, peripherals and power connect through a single USB-C cable. If your organization has fully made the jump to USB-C, stay tuned for a follow-up article for more on that topic.
For now, HDMI is the reigning king of video connection, and numerous adapters are available to support all of the common laptop ports. While it might appear slightly chaotic, adapter ring solutions like The Dongler can be handy. There's no need to mess with settings, just choose the adapter that fits with your computer's port.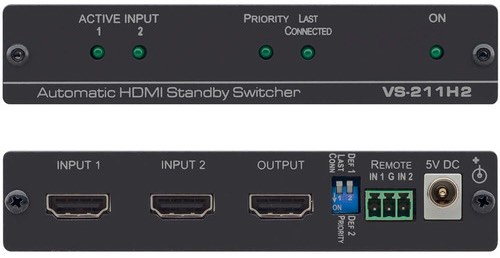 There are many HDMI switchers available.  Make sure to choose one that supports automatic switching and 4K video.  Opt for devices with a 'priority port mode', such as the Kramer AV VS-211H2, for reliable switching back to the conference PC.
USB-A Switching:
There are several options for conference room USB switching across a wide price range. These vary in how much user input is needed, speed and number of ports, and how robust the construction is.  USB-C-only laptops can connect using a USB-C to USB-A adapter.  Depending on the size of the conference room, consider an active cable like the Newness FireNEX™-uLINK  
Option 1: Dirt cheap KVM on the table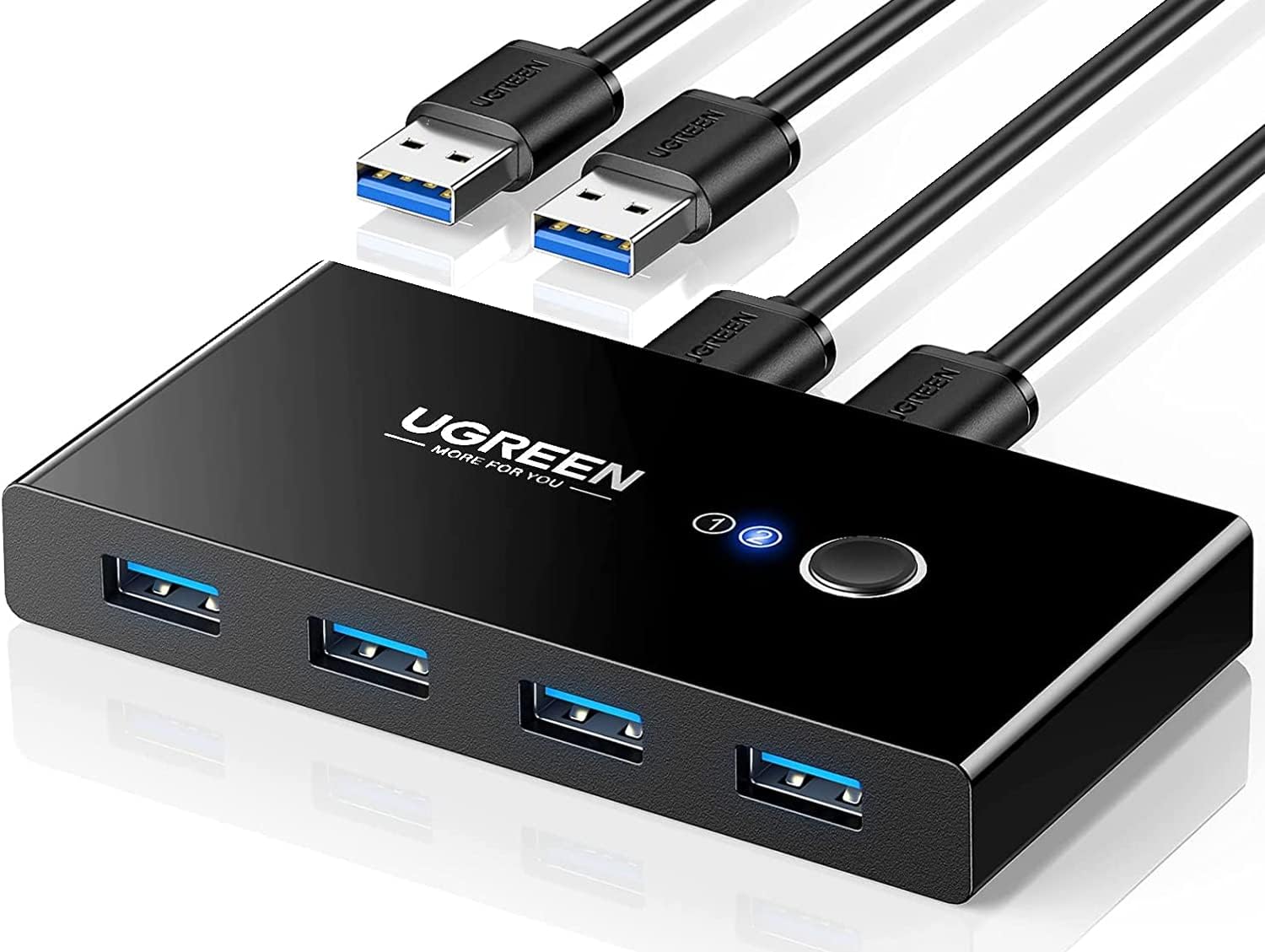 Numerous nearly-identical models exist, but for an example, we'll focus on UGREEN's offering (available for just $37 at the time of writing). There are also similar devices that add a remote switching button, but the remote cables are typically too short to reach a conference table.
Benefits:
Exceptionally affordable.
Equipped with 4 downstream USB 3.0 ports.
Drawbacks:
Manual button operation required for switching, meaning the device needs to be accessible, along with all peripheral cables cables.
The conference PC doesn't reconnect automatically.
Best for: Small teams operating on tight budgets, where all members are familiar with KVM switches and where helpful colleagues won't start unplugging stuff the moment the webcam doesn't connect.
Option 2: Single-port auto-switcher
The Biamp USB 200 (priced at $270 when this article was written) is primarily designed for their dedicated conference room AV systems, but it can also work as an independent USB switcher. With support for two hosts and a priority mode, it ensures automatic reconnection to the conference room PC. However, it has only one downstream USB 3.0 port.
Benefits:
Likely the most budget-friendly auto-switcher available
Supports priority switching, USB 3.0
Drawbacks:
Offers just one downstream port
Lacks mounting hardware
Best for: Users requiring a single peripheral connection.
Option 3: 3-port auto-switcher
The Toggle USB 3.0 Pro AV from Inogeni (available for $425 at the time of writing) checks many boxes. It offers automatic priority switching and allows 3 downstream USB 3.0 ports to be shared between two hosts, allowing automatic reconnection to the conference room PC.
Benefits:
Metal enclosure
Automatic priority switching
Drawbacks:
Limited to 3 ports
Lacks mounting hardware
Best for: Installations where out-of-sight, DIY-style cable-tie mounting of the hub is permissible and where no more than three downstream USB 3.0 ports are required.
Option 4: Industrial conference room USB hub
The Acroname USBHub3+ (priced at $845 at the time of writing) offers a comprehensive solution for a conference room USB-A switcher. It shares eight downstream USB 3.2 (5Gbps) ports between two hosts and comes housed in a  DIN rail mountable, industrial steel chassis. The hub is also offered as part of a BYOD add-on kit for Poly meeting room systems.
Benefits:
DIN rail mountable metal enclosure
Automatic priority switching
Supports USB 3.2 and the latest 4K cameras
Provides eight ports
Drawbacks:
More costly than the other options discussed
Best for: Clients seeking a seamlessly integrated, hassle-free solution compatible with modern 4K cameras and supporting up to eight peripherals.
Summary:  
 
Ugreen KVM
 Switch
Biamp
USB 200
Inogeni Toggle
USB 3.0 Pro AV
Acroname
USBHub3+
Price (est)
$37
$270
$425
$845
No. of Ports
4
1
3
8
Automatic
Switching
No
Yes
Yes
Yes
USB Version
USB 3.0
USB 3.0
USB 3.0
USB 3.2
Mounting
Hardware
No
No
No
Yes (DIN rail
mountable)
Chassis
Material
Plastic
Plastic
Metal
Metal
The choice of a conference room USB switcher hinges on your specific requirements. Not every setup demands support for eight devices, USB 3.2, and DIN mounting, but understanding your needs will guide you towards the right solution for your conference room.