MTM: The Next Generation
Functional Circuit Test
Test Platform to Efficiently Scale Production
What is MTM?
Are you looking for an alternative to National Instruments (now NI) PXI or LXI test equipment? Are you ready to adopt Python instead of paying license fees for LabVIEW? You're in the right place and Acroname's MTM is your new test platform. You can even keep your LabVIEW if you want to.
Manufacturing Test Module (MTM) Series instrumentation from Acroname is the platform you need to free your production testers from the burdens of validation test equipment. Mix and match modules to create a complete tester within a fixture frame, eliminating benchtop and rack equipment - all without sacrificing the robustness and reusability you demand from your equipment. And when you are ready to scale your production line, MTM enables rapid replication of inexpensive testers that are repeatable. So mass-production testers behave the same way as the ramp station.
Are you ready to shift your perception of what your production tester can be? It's about time for a platform dedicated to production test. With our decades of experience in high-volume manufacturing, let Acroname and our MTM Partners show you how to build the tester you need to quickly and efficiently bridge you from launch to production ramp.
As test engineers ourselves, we made sure MTM addresses the challenges of production test:
- Robustness
- Capital Cost
- Re-Use
- Tester Complexity
- Development Time
shift your perception of what your production tester can be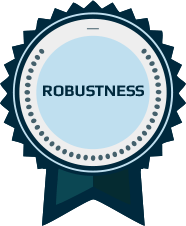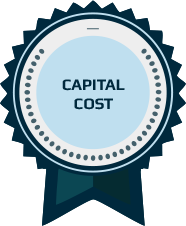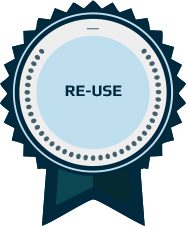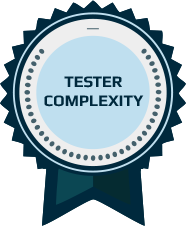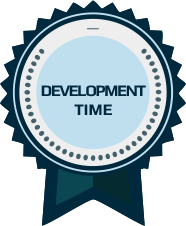 Robustness
MTM is designed to make your functional circuit tester (FCT) reliable. If (ahem) When something goes wrong in a manufacturing environment, equipment can easily be damaged and either destroy valuable product or worse, the tester itself. We've all been there. These impacts to production mean late nights, lost weekends and long plane trips. Oh… and don't forget the cost of lost yields or being line-down.
As test engineers, Acroname anticipates these issues so an MTM-based tester will survive - because we've been there too. ESD strikes, short circuits, the wrong Device Under Test (DUT) in the tester, reversed supply voltages...etc. Not that that happens in your line. Each module in the MTM series has been created to withstand these rigors, so you can trust that your tester will be ready when you need it to be.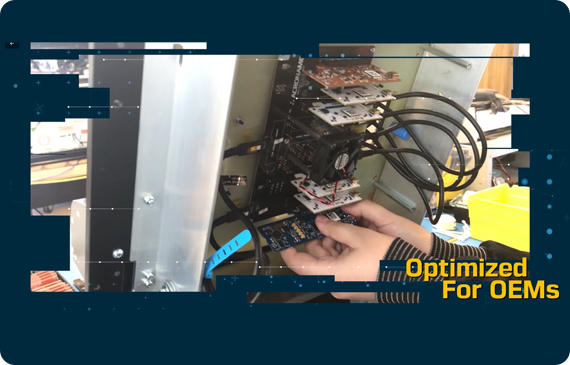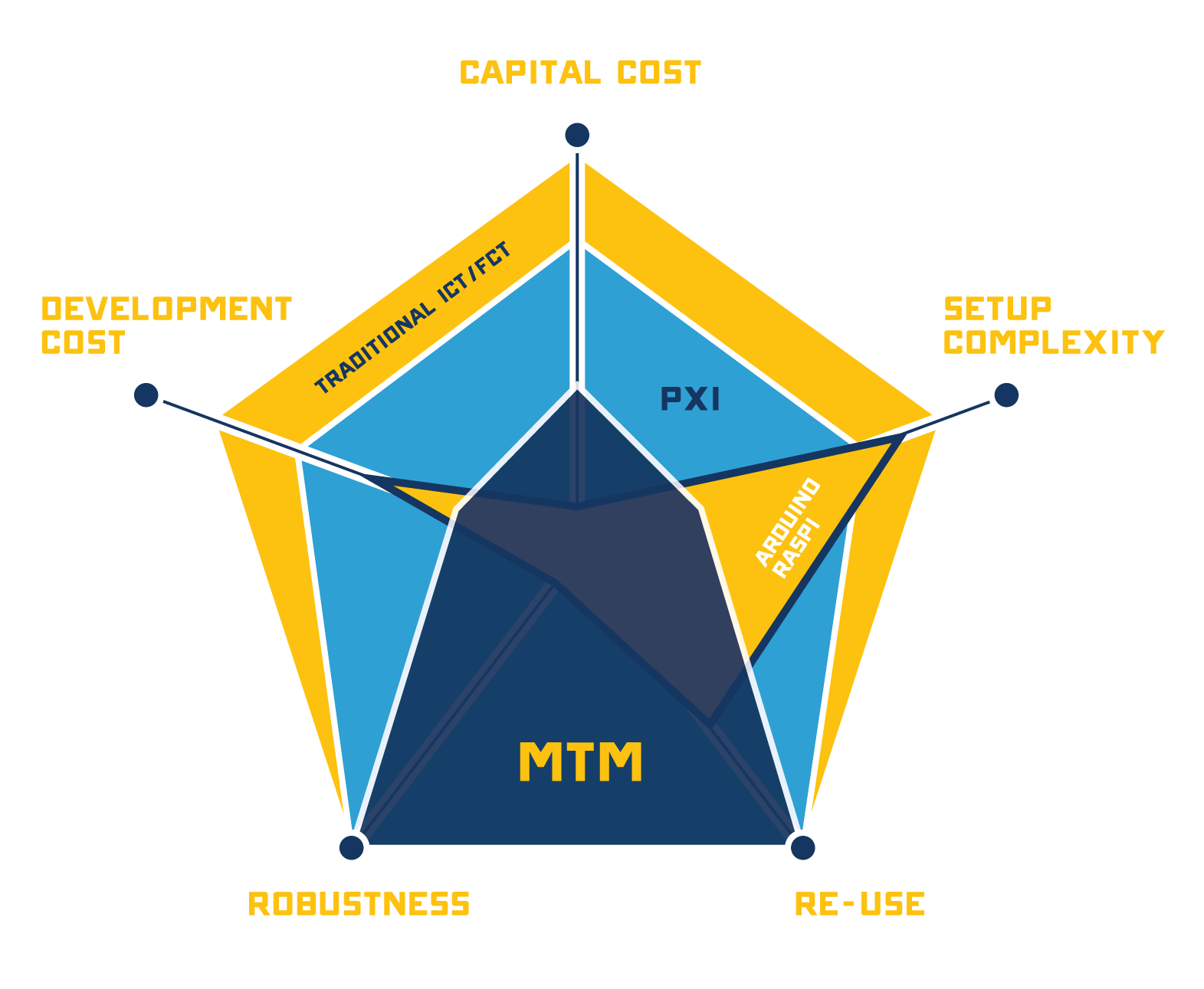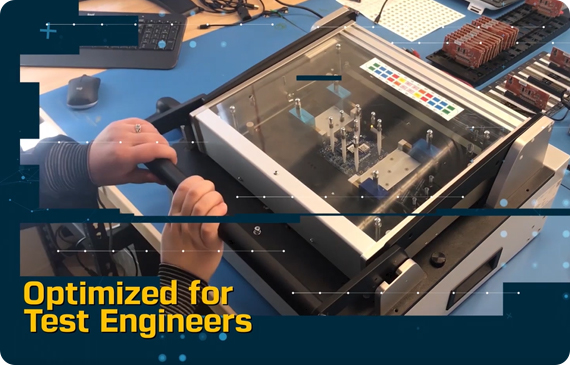 Capital Cost
MTM can save 50-80% on the cost of your production test equipment. Today, we expect that expensive benchtop or backplane-type instruments from validation testing are what we need in production test. These are perfectly effective tools. However, they are not optimized for production, and their expensive experimentation capabilities are overkill once prototyping is complete.
Each MTM module is designed to replicate the function and reliability of bench equipment, but at accuracies and speeds that production tests demand. And at a size that fits in the fixture frame and cost that you can fit on a P-card. No chassis, rack or bench required.

Re-Use
MTM modules are all off-the-shelf products. Small and consistent, you can use them like building blocks in a tester. Need another programmable power supply? No need to search for rack or bench space for a big beige box. MTM power supplies fit in your hand - and then right in the test fixture frame.
Scaling from a 1-up tester to multi-up testing is as simple as adding the modules you need. Just drop in more modules and the work you did on the 1-up can be re-used at scale. When you are done with your modules, put them on a shelf. They are ready for the next job with another DUT.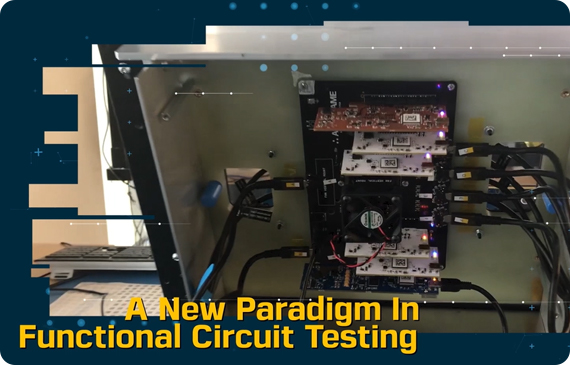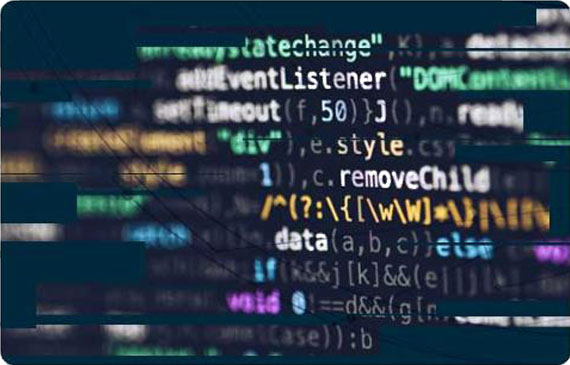 Tester Complexity
With great modularity comes great simplicity. Most functional test stations have stacks of bench top equipment pushed into racks and connected with complex wire looms. The long wires and ribbon cables that connect these racks only lead to more wiring that connects to the fixture and then to the wire-wraps inside the fixture to the DUT. More. Wires. In multi-up testers, this is just compounded. Even. More. Wires. Troubleshooting wires can be an overwhelming challenge in high-pressure manufacturing environments. Not with MTM.
MTM modules are small enough to fit directly inside the test fixture frame - and even attach directly to the DUT. No. More. Wires. The fixture base IS the tester. And there are no wires. Just think about all the time you've spent chasing broken, cracked or mis-connected wires. Modular instrumentation in a wire-free modular fixture frame means changing a component of your tester becomes simple. And changing a line to test a different product can be completed in a matter of hours.

Development Time
Bringing a product to market is complicated. Test requirements always shift. Prototypes require extensive testing. Many tests are moved to a sampling line once mass production begins. With the small tester size afforded by MTM, station modules can be simply removed from their mass production test locations. Since the fixture IS the tester, the same fixtures/test stations and software can be used for both deep prototype testing as well as mass production test lines. But you still have to replicate testers to accommodate scale… and the launch deadline DOES NOT MOVE. When you design with MTM, replicating the same tester at large scale becomes simple due to modularity. MTM modules and fixture components are all off-the-shelf, modular and easy to source. Without complex assembly or wiring/assembly-specific characterizations, the replicated testers behave just like the first one.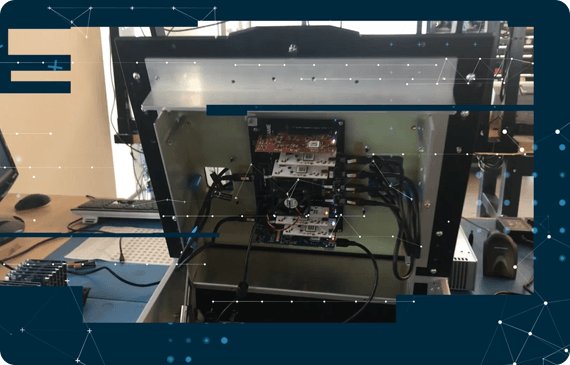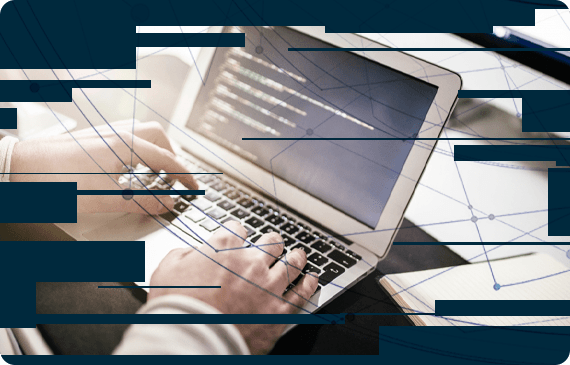 Extensible Platform
BrainStem technology complements MTM hardware as the networking and API control component of the unified test platform. MTM modules are designed to work easily in single stand-alone or multi-module test systems, inter-connected and accessed by elegant BrainStem APIs. BrainStem technology makes it simple and easy to control all of your MTM devices in a tester through a single host connection and API.
Like you, we understand how important your development tools and platforms are. We have you covered. BrainStem APIs are supported under all the industry standard test development environments that you trust:
Choose your platform:
- Windows
- MacOS
- Linux
- ARM
Choose your api library:
- LabVIEW
- Python
- C
- C++
- C#

LEARN HOW TO USE MTM IN YOUR NEXT TEST SYSTEM