Understanding Variations and Compatibility
With the rise of USB-C technology, the demand for compatible cables has also increased. However, not all USB-C cables are created equal. While they may all have the same connector, they have drastically different capabilities, including current/voltage ratings, eMarked or not, passive or active, and support for alternate modes like DisplayPort or Thunderbolt. In this blog post, we will explore the different types of USB-C cables and how devices identify the cable type.
USB-C Cable Basics
A USB-C cable has 24 pins on each connector and anywhere from 7 to 16 different signals in the wire. The signals get divided up into power (Vbus) and ground, a configuration channel (CC) and connector power (Vconn), sideband communication (SBU), a set of USB 2.0 twisted pair, and four pairs of super speed data lines. The difficulty is knowing a cable could have some or all of these signals depending on its rating making USB-C cables a bit confusing.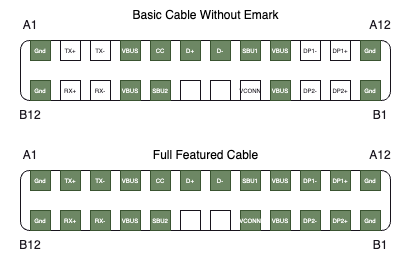 Figure 1: Basic Cable vs Full Featured
Electronically Marked Cables
How does a device know the capabilities of an attached cable? Most USB-C cables have an electronic marker chip embedded in the cable known as an eMark.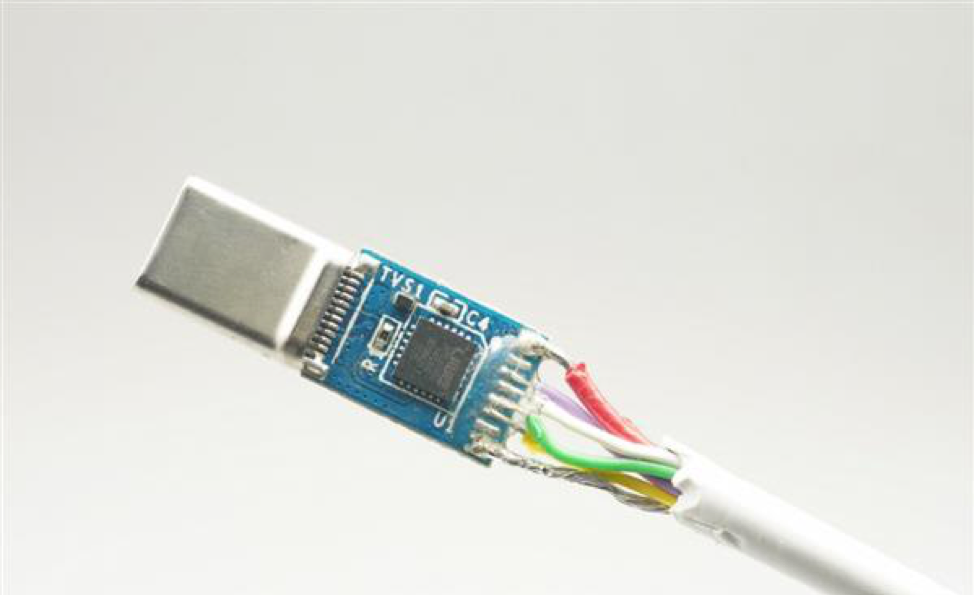 Figure 2: Cable Emark Example
When powered, it can report the cable ratings through USB Power Delivery Discover Identity, SVIDs, and Modes messages. eMarked cables can provide information about the cable's capabilities, including maximum power rating in the form of max voltage and current, the cables Vendor ID, Product ID, and certification ID, and finally whether the cable supports any alternate modes such as Thunderbolt.

Figure 3: Discover Identity Message from Emark
Non-eMarked cables do not provide the same level of performance and devices will have to assume a conservative rating for the cable. The standard conservative rating is a maximum of 20V at 3A (60W) with a maximum speed of USB 3.2 at 5Gbps. 
Current and Voltage
USB-C cables can have different current and voltage ratings, affecting their ability to transmit power. The original USB-C Cables had a maximum voltage rating of 20V, but with technology progressing and the need for more power, 20V isn't enough anymore. The latest USB Power Delivery standard includes an Extended Power Range (EPR) which raises the maximum voltage to 48V. Along with the voltage increase, the original cable standard had a 3A maximum for current. Since that just wasn't enough for tablets and power-hungry laptops, the standard increased to 5A. These updates in the standard have increased the max power from 60W to a whopping 240W of available power. Now just because the cable can withstand higher voltage and currents it doesn't mean it has high marks in regards to data transfer. Some cables are designed solely for charging, while others can handle both charging and data transfer.
Data Lines
There are multiple sets of data lines with a wide range of data transfer rates and uses ranging from the configuration channel running at 500kbps to the super speed data lanes running at up to 20Gbps. Just like the power, the standard for these signals has changed over time along with ensuring support for charging only and legacy devices. A charging-only cable may simply have support for USB 2.0 at 480Mbps which is a significant limitation. In complement, a USB 4 full-featured cable will have support for up to 80Gbps.
Passive and Active Cables
USB-C cables can also be categorized as passive or active. Passive cables do not have any active components, while active cables have built-in circuitry that can boost the signal and provide higher data transfer rates. Although more expensive, they provide better performance, especially for longer cable lengths. These cables will often use either a redriver which amplifies the super speed signal or a retimer which amplifies and fixes the timing skew of the super speed signal.

Figure 4: Retimer vs Redriver
Alternate Modes 
USB-C cables can also have specific requirements to support alternate modes like Thunderbolt. These modes allow for the transmission of high-quality video and audio signals, with support for resolutions up to 8K. Devices can identify the type of cable they are connected to using Discover Identity, Discover SVID, and Discover Mode messages similar to how two devices identify their alt-mode capabilities. These messages provide information about the cable's capabilities.
USB-C Performance and Compatibility 
USB-C cables are not all created equal. They can have different current and voltage ratings, support only USB 2.0 or up to USB 4, be eMarked or non-eMarked, passive or active, and support alternate modes like Thunderbolt. Devices can identify the type of cable they are connected to using USB Power Delivery messages like Discover Identity, Discover SVID, and Discover Modes. In the end, it's important to choose the right cable for your application to ensure the best performance and compatibility with your setup.
Power Delivery captures above were taken by the USBHub3c with PD Logging! Check it out here! 
Acroname is trying to simplify USB with our Control Room software which can identify cable or setup issues early! Check it out here!
REFERENCES
USB Power Delivery Specification R3.1 V1.7, USB-IF, (https://www.usb.org/sites/default/files/USB%20PD%20R3.1%20V1.7_0.zip)