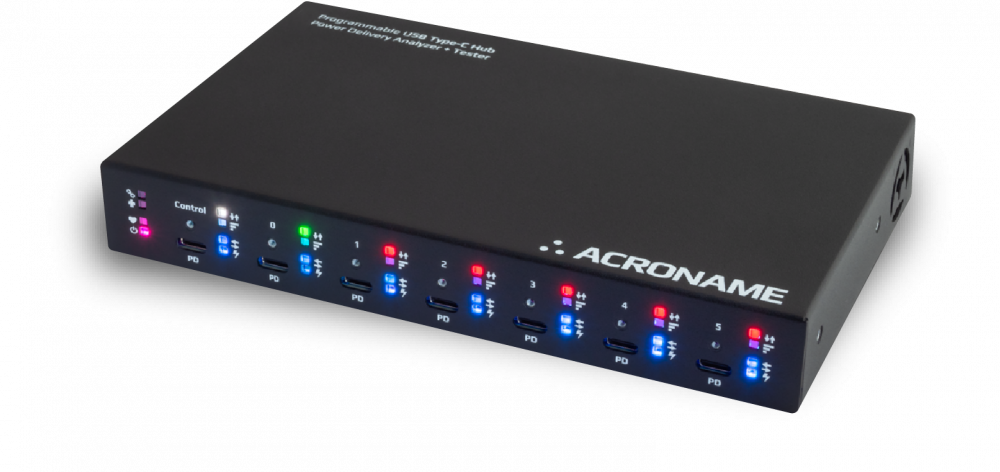 Looking for the best industrial USB hub can feel like a high-stakes proposition. You need equipment that can deliver the technical performance you need — sometimes under very challenging operating conditions.
So how do you find the best USB hub? That's what we're going to look into today.
USB hub options to consider: Acroname vs. Competitors
We're going to take a look at a few of the top USB hubs on the market and compare their features and performance over time. The USB hubs we're looking at today are:
StarTech.com's 16-Port Industrial USB 3.0 Hub
Coolgear CG-4PG2MHUB 4-Port Industrial USB 3.2 Gen 2 Type-C Hub
There are definitely other industrial USB hub options out there, but this selection should represent a good cross-section of the available choices.
Why we chose our top contenders
To find our USB hubs to consider, we looked at widely available multiport USB hub options on the market that are often used in an industrial capability.
Let's take a look at each USB hub and what it sets out to offer. After that, we'll investigate performance and reliability over time to see how these USB hubs hold up in the real world.
StarTech.com's 16-Port Industrial USB 3.0 Hub
StarTech.com is a common recommendation for industrial USB hubs, including among A/V professionals. Their equipment is available on their website, as well as on Amazon, making it easy to find and source. Their 16-port model is designed most specifically for intense use cases and high power demands.
Coolgear CG-4PG2MHUB 4-Port Industrial USB 3.2 Gen 2 Type-C Hub
For a more stripped-back use case, Coolgear's four-port hub focuses on data transfer speed and is available from USBGear. It appears in searches for industrial-grade equipment and is manufactured with screw-locking ports and a steel body.
Acroname USBHub3c
The Acroname USBHub3c is a USB-C hub with built-in capabilities for power delivery analysis and testing. It delivers data transfer speeds of 10Gbps with USB 3.2 Gen 2x1 technology and is completely programmable with port-level control.
We developed the USBHub3c to give developers and engineers full control to validate, control, and test the limits of devices. It comes in pro and lab testing editions, which are optimized for those different environments.
Factors to consider: What makes for the best industrial USB hub?
What would go into the best industrial USB hub of all time? What would make the wish list of every developer, engineer, A/V professional, and anyone else who needs to use USB hubs in a demanding environment?
We brainstormed the top features to consider. The following elements make for the best industrial USB hubs for automation:
Programmability
USB port configuration
Durability
Power management capabilities
Mounting and installation methods
Data transfer speed
Warranty and support
Of course, the features that are most important to you will vary across industry and application. Most manufacturers will offer several configurations of the same model in order to optimize for specific demands and use cases.
Let's take a look at each of these features in turn and compare how each of our contenders stacks up.

1. Programmability in USB Hubs
Programmability refers to the ability to control the hub's operation remotely, via software, without physically modifying or touching the hub. It's a huge benefit for complex A/V setups that need to seamlessly switch between devices at a moment's notice, as well as for testing cases, where it pairs with monitoring capabilities to automate safety features and more.
Programmability in StarTech.com's 16-Port Industrial USB 3.0 Hub
StarTech.com offers connectivity tools with an event monitoring utility, which keeps track of any USB devices that are connected for security and record-keeping. However, the hub does not appear to feature programmability or automation.
Programmability in the Coolgear CG-4PG2MHUB
This hub does not seem to offer any type of programmability or digital monitoring utility. The only way to check the status of the ports is via LED indicators.
Programmability in the Acroname USBHub3c
Acroname developed the world's first industrial programmable USB hubs, which allow you to control all USB-PD parameters (including intentional error states, connectivity, and measurements) via ControlRoom software, available via license. Evaluate device capabilities, engage in cable testing, and handle peripheral testing and control from one central location.
A built-in API interface simplifies communication and control. It's compatible with the most common programming languages for Windows, Mac, and Linux, including:
.NET C,
C++
Python
LabVIEW
Additionally, programming capabilities allow for advanced features such as Fast Role Swap, which allows the device to very quickly swap its power role from sourcing to sinking (we're talking microseconds).
Programmatic cable flipping with our universal orientation cables allows for testing of both orientations of a USB-C connector without manually flipping the cable. If this is a step in your testing process, you can simply automate it instead of spending all that time plugging and unplugging cables.
USBHub3c allows individual USB ports to be enabled, disabled, programmed, controlled, and monitored. You can measure current and voltage, monitor for enumeration, and change upstream port connections remotely.
2. USB port configuration
The type, number, and configuration of USB ports are major factors for anyone considering the purchase of industrial USB hubs.
So how do these USB hubs stack up? Let's take a look:
StarTech.com's USB 3.0 Hub features sixteen USB 3.2 Type-A ports (9 pin, Gen 1, 5Gbps).
Coolgear's CG-4PG2MHUB features one upstream (Type C connector, screw-lock type) and four downstream ports (two Type C connectors and two Type A).
Acroname's USBHub3c features eight USB-C ports: six individually controllable dual-data dual-power USB 10Gbps ports (USB-C), one dedicated control port (can be controlled from any port), and one dedicated power input port.
Of course, each of these manufacturers offers a variety of models with various port configurations, USB types, and more.
3. Durability
The performance and reliability of USB hub options are some of the main factors that separate industrial USB hubs from regular commercial devices.
It's one thing for a product to sound great on the sales website, but it really comes down to how it performs in real-world applications. If it can't withstand wear and tear over time or hold up to the type of use case you require, it doesn't really matter what the specs are on paper.
StarTech.com's 16-Port USB 3.0 Hub is built with a durable steel housing. It offers Level-4 ESD protection, with 15kV air and 8kV contact discharge ratings to protect against static electricity and discharge. It was engineered with settings such as factories and production lines in mind.
Coolgear's CG-4PG2MHUB is recommended for operating temperatures of 0 to 70°C (32 to 158°F) and operating humidity of 5 to 95% RH. It's made with a steel body for industrial use.
Acroname's USBHub3c is built with a rugged steel enclosure and ±15kV ESD protection. It's designed to withstand extreme environments such as factory floors, device farms, and laboratories. The lab model focuses on rugged durability in these limit-testing applications, while the pro model is designed for flawless performance in high-stakes professional scenarios.
4. Power management capabilities
Along with programmability, this is another area where Acroname's USBHub3c really stands out. It's the only one of these three hubs that focuses on power delivery. The other two hubs do support battery charging 1.2, but don't offer power delivery.
In addition to PD analysis, the Acroname USBHub3 allows you to control power delivery functions for each individual port. Dial the power delivery up or down based on your needs, all from your software dashboard. It's a dream come true for testing and manufacturing engineers who need to understand how devices are going to work in different kinds of power situations.
5. Mounting and Installation Methods
While it may seem basic after all of the intensive technology of power delivery and data speeds, we all know that if the device doesn't fit where you need it to go, it's pretty much a moot point.
Here's how these three devices stack up in terms of mounting and installation methods.
StarTech.com's 16-Port Industrial USB 3.0 Hub offers three different methods for mounting. It includes 19" rackmount rails, as well as options for surface mounting and DIN rail mounting.
Coolgear's CG-4PG2MHUB comes with a wall mounting plate and screws, as well as a DIN rail clip with screws. It can also be surface-mounted.
All Acroname USB hubs, including the USBHub3c, are rail-mountable. The hub is not only compatible with the official Acroname mounting kit, but it also has built-in attachments for use with 3.5x8mm screws. The hubs can be mounted in various orientations depending on the needs of your space.
6. Data transfer speeds
Data transfer speeds can have a major impact on how the UBS hub operates and performs for you.
StarTech.com's USB 3.0 Hub offers 5Gbps of shared bandwidth between the USB ports.
Both the Coolgear hub and the Acroname USBHub3c are compatible with USB 10Gbps, as well as all previous USB generations, for the fastest modern data transfer speeds.
Additionally, Acroname's USBHub3c provides connection speed indication and the ability to throttle speeds. You can program the ports with the appropriate cables to run at 2.0 or 3.0 for testing and validation during device testing to ensure backward compatibility.
7. Warranty and Support
StarTech.com's 16-Port USB 3.0 Hub offers a two-year warranty and technical support Mondays through Fridays.
The Coolgear hub offers a one-year warranty and technical support via email.
Acroname USB hubs and switches are designed, assembled, and tested in the United States. Extended warranties are available. If you need any additional help before or after your purchase from our support, customer service, or sales teams, they are all based in Boulder, Colorado.

To Sum It Up:
In conclusion, the Acroname USBHub3c is a top-tier choice for a multiport USB hub needed for industrial applications. There's just nothing else on the market that offers the same level of programmability and power delivery control.
All Acroname industrial USB hubs feature:
Daisy chain capability
Enable and disable features such as power, USB data, and USB SS data on individual ports
Input voltage monitoring
DIN rail mountable compatibility
BrainStem API (C, C++, Python), TestStand, and LabView programming interfaces
Looking for a different USB configuration or setup? Feel free to explore our entire product line of USB hubs to see which might best fit your needs.