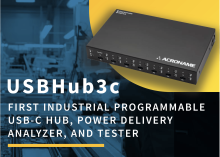 The USBHub3c is designed specifically for mobile device test labs, USB-PD validation testing, USB-C device production testing, end-of-line battery charge, and for testing dual role data (DRD) and dual role power (DRP) devices. Fully programmable, engineers can control USB-PD parameters, connectivity options, real-time measurements, and data.
Important Information
A First in PD Sourcing via USB Hubs
The Acroname USBHub3c is the only bus-powered USB hub that supports PD sourcing. Engineers can sync power and charging sources, and custom-build power delivery profiles.
Ports can be enabled and disabled independently. Each port can also be dynamically configured for upstream or downstream data at speeds up to 10gbps.

A software-controlled USB-C "flippable" connector allows for automated testing. Programmable, simple, and robust APIs in Python, C++, .Net, and LabView® support customization and controls.

The Acroname USB-C Analyzer can withstand ±15K electrostatic discharge (ESD) strikes, safeguarding devices, budgets, and sanity.

PD Rule Editing and Mobile Device Charge Control grants engineers superior editing capabilities and responsiveness.