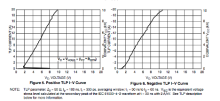 Usb ESD protection with Acroname
The next-generation circuitry in today's consumer and industrial electronics is smaller, faster, better. Consumers love the innovations. But test engineers are not as enthusiastic. Because that innovation comes with a striking downside: increased susceptibility to electrostatic discharge.
If the USB devices you're using aren't built for rugged environments, a catastrophic failure could — and probably will — happen. You'll have to tell the C-Suite that all your electronic components fried because your ESD mitigations failed.
ESD mitigation failures are bad, so our USB hubs and switches are designed to withstand ±15kV ESD.
We looked at several ESD issues when we designed Acroname's USB devices:
Mitigation outside the box
Standard ESD mitigation efforts in industrial and manufacturing environments are not enough to protect against ESD strikes. You have to go one step further than "standard" and think outside the box -- like the ESD coatings. (The ESD coatings on Acroname USB devices are strategically placed to maximize protection.)
Directing and Dissipating
Engineering 101 taught us that electrical currents follow the path of least resistance. Capacitors provide a low-resistance location to "pull" and "store" ESD currents until power is dissipated and drained to the earth/ground.
Acroname USB ports implement USB protection circuitry that directs ESD currents away from sensitive components. We partnered with Pragma Design to improve ESD event handling. Using mapping technology, engineers illustrated how energy was dissipated from a direct ESD discharge event to a part of the USBHub3+.
The mapping illustration (please note: there is no audio):
But even the small capacitance used for USB ESD protection can be too much for high-speed data lines used on USB devices.
Transient Voltage Suppressor (TVS) diodes provide an optimal solution to this problem. Designed to protect high-speed data lines from ESD, TVS diodes feature ultra-low capacitance and low ESD voltage.
TVS and Transmission Line Pulse (TLP) Measurement
Transmission Line Pulse (TLP) provides current versus voltage (I-V) curves in which each data point is obtained from a 100ns-long rectangular pulse from a charged transmission line. TLP I−V curves demonstrate the USB's ESD capability — the 10s of amps and under 100ns time scale match those of an ESD event.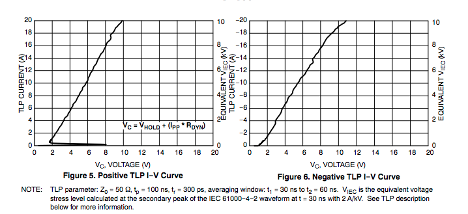 (illustration courtesy of ON Semiconductor)
Placing a TVS on the data lines between the USB port and the USB controller can shunt the ESD current to earth/ground — quickly. TVS diodes can shunt 10100 amps in nanosecond time scales.
To arrest the transient threat, the TVS diode should be placed as close as possible to the USB port. (For ESD Protection of USB 3.0 Hub applications, the device should be placed between the AC coupling capacitors and the I/O connector on the TX differential lanes.)
TVS diodes follow IEC Standards 61000-4-2 (Level 4) and are PB-free, Halogen-free/BFRfree, and RoHS Compliant.
The Acroname Solutions
Each Acroname USB is IEC6100-4-2 Level-4 certified to withstand ±15kV ESD strikes
Since there is no good way to tell your C-suite that an ESD strike took out expensive equipment; not in email, not in person, not over a zoom call -- we took everything into consideration: ground paths, direct current paths, component choices and placement, and the ESD coatings.
Acroname USB products are programmable and malleable using our BrainStem® Technology and HubTool controls. They are rugged, reliable, and responsive during rigorous testing. When updates need to be made to the devices, BrainStem® delivers the goods remotely. You won't have to deal with recalls, shipping, and lengthy delays. All Acroname products are assembled and tested in the USA.
Seriously, we thought of everything. Take a look at our USB product line:
The Acroname Programmable Industrial USB 2.0 Hub (4 Port) is best for testing and development environments
The USBHub2x4 features a robust metal enclosure and uses Acroname's BrainStem® Technology and HubTool to control the hub. The USBHub2x4 allows engineers to switch and control data, power, and current limits. Each port can operate separately: data and power lines can be turned on and off; programmed to control current limits up to 2.5 amps; set enumeration delay to control downstream device timing; can boost USB data signals to drive long cables and other complex connectivity setups.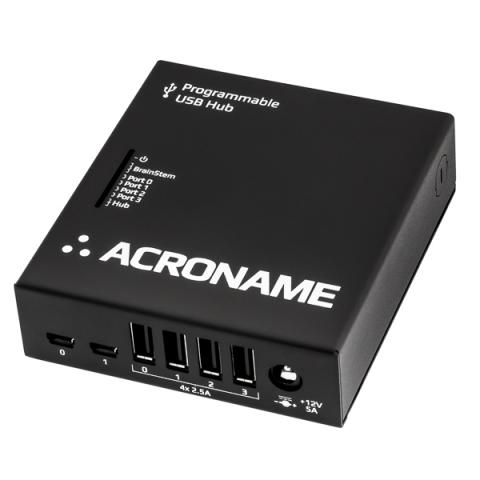 Programmable Industrial USB 2.0 Hub (4 Port): Programmable software-controlled USB hub with 2 host connections and 4 fast-charging (2.5A) device connections. Switch and control data, power, and current limits separately. Boost USB signal levels to account for difficult interconnection environments. Rugged steel housing and USB ESD protected to 15kV.
The Acroname Programmable Industrial Type-C 4-Port is for advanced control while monitoring of USB Type-C ports
Acroname USB-C-Switch is a programmable, and bi-directional 4-channel USB-C port selector. Used by major OEMs and CMs worldwide, it automates testing and validation in manufacturing and test environments and enables control in any complex USB-C or USB System.
Rugged steel housing and built on Acroname's BrainSteam® Technology, the USB-C-Switch supports advanced protocols: USB-PD, Apple CarPlay, Android Automotive, and alt-modes such as HDMI, DisplayPort, DVI, etc.). You can use the USB-C-Switch as a 1:4 or 4:1 multiplexer. It also provides Keep-Alive-Charge (KAC) power to non-selected ports.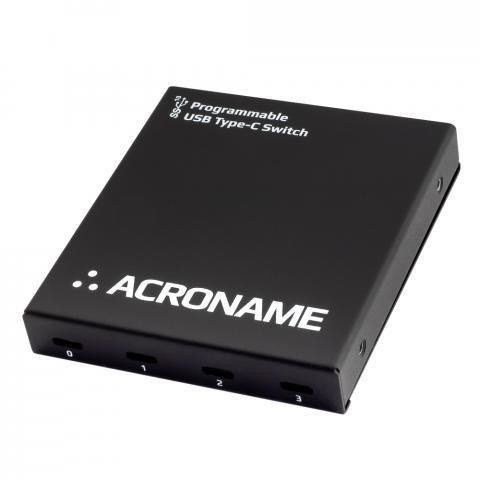 Programmable Industrial USB Type-C 4-Port Switch: Software-controlled, bidirectional 4-channel USB-C port selector switch. Includes onboard USB signal ReDrivers for longer cables. Automate port switching, hot-plug, and type-C connector flips. Monitor Vbus and Vconn voltage and current. Support for USB-PD and alt-modes. Rugged steel housing and ESD protected.
The USBHub3+ fends off frequent ESD to protect expensive lab and production equipment in high-test environments. It gives engineers advanced flexibility to configure USB testing and development applications.
Its architecture consists of two layers of internal hubs to achieve true 8-port hub functionality. Each downstream USB channel implements separately and independently switched data lines and current-limited power lines. USB power, data, and SS data can be independently plugged and unplugged for advanced USB testing applications. USB Pin interfaces are protected against reverse polarity and overvoltage and connections are designed to operate from 0°C to 50°C ambient with no external cooling or fans.
More information can be found here.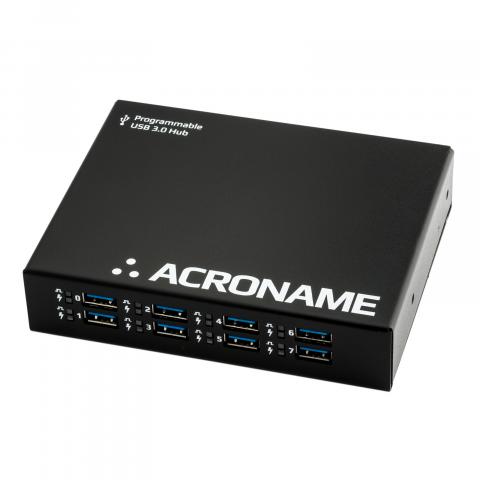 Acroname Programmable USBHub3+ (8 Ports): Programmable, 8-port, software-controlled, industrial USB 3.0 hub with 4A charging. Control USB Hi-speed, SuperSpeed data and power lines. Set port current limits, and monitor voltage of USB ports, and current. Boost USB2 signal levels to account for difficult interconnection environments. ESD protected to 15kV. Auto-switch between two input ports for conference rooms or remote environments.
Need more information?
Our engineering and customer teams are located in Boulder, Colorado. The teams are always available to answer your questions or help troubleshoot and solve your ESD issues.