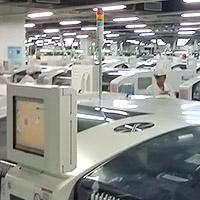 Setting up product manufacturing involves many complicated systems and processes. In order to produce millions of devices a month, companies need to massively scale these systems. Yet this scale is in direct conflict with fast product changes and time-to-market for "the next big thing". Major cellphone and tablet manufacturers utilize Acroname's BrainStem technology to reuse and reconfigure their board level functional test systems with ease, enabling massive scale and excellent test coverage while maintaining agility.
BOARD LEVEL TEST
Acroname has worked with some of the world's largest companies to design highly customized and reconfigurable test automation control systems. During board level functional test, Acroname's systems supply power, provide communications interfaces, enable digital and analog interfaces and make measurements on devices-under-test (DUTs). Even for critical and highly sensitive radio frequency (RF) calibration and testing, companies rely on Acroname's systems for test automation control.
Acroname's BrainStem technology brings a consistent and uniform interface between test software and the rapidly changing DUT hardware and test definitions. Acroname customers have come to rely on the flexibility provided by BrainStem technology, and have realized major reductions in capital expenditures through equipment cost-reduction, parallelization, and capital equipment reuse.
FINAL ASSEMBLY AUTOMATION
The BrainStem's flexibility enables one company to use an Acroname designed system intended for board level testing as an automation controller for their final assembly line. This company continues to rapidly create complex RF relay and fixture control systems by leveraging the BrainStem API and supporting custom designed hardware. By using one flexible system across multiple test systems, mass production and testing are rapidly scalable without the burden and overhead of designing and developing new control systems and software interfaces.
MANUFACTURING TEST MODULE SYSTEM (MTM)
While developing several different custom test automation control systems, Acroname has gained a deep understanding of the requirements for mass production test and control systems. Based on this knowledge, we have developed the Manufacturing Test Module System (MTM). This system allows companies to rapidly scale from small engineering validation builds to mass production. It also allow companies to streamline re-tooling between product pushes with maximum equipment and software reuse.
Acroname works hand-in-hand with customers to utilize the BrainStem technology in their manufacturing flow. Contact us to discuss your needs and find out how we can help.